Happy New Year to all our families and colleagues around the world
Join with us as we close out 2017 by celebrating all the work Multisystemic Therapy has done to achieve proven results for families and communities. We look forward to 2018 and plan to continue our efforts to meet the needs of those we serve.
Take a moment to read what people and communities say about their experience with the program. For those who don't have access to effective alternatives to placement, detention and out-of-home care, our resolution is to further our reach in 2018. Our goal is to leave no family or community behind.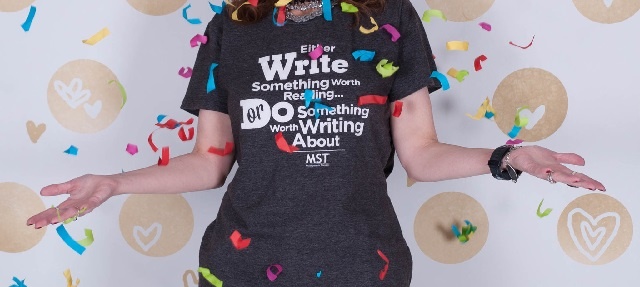 "What I love about MST is that it is evidence based. We want to know that what we are doing works—and MST has been proven time after time. What MST does is empower families. Strong parents raise strong kids." —Katelyn Jakubovic, MST therapist
"My MST therapist had a genuine interest in deeply understanding the dynamics of my family and its individual members." —MST father
"MST was such a valuable service for families like ours. Without MST coming on board, as a family, we would no longer be together. We would have lost [our daughter] Ingrid. It had become an unsafe situation. The fact that MST has helped repair this is amazing. Lauren [MST therapist] has worked miracles, and I can't thank her enough for always believing in me and really seeing what was going on within our house, and that for once, it wasn't my fault." —MST mother
"Prior to MST, our juvenile court lacked effective treatment for high and mid-level at-risk youth. After we [employed] evidence-based programs for them, our incarceration rates dropped dramatically. In one year, we saw the second highest decrease in incarceration for the entire state of Georgia. We have seen delinquency rates drop, successful completion of probation and families smiling in courts." –Honorable John B. Sumner, Cherokee County Juvenile Court
"As a social worker in the U.K., I was looking for a programme that would help this young person remain in his home and be safe in his community. Something that would give him and his family the tools and resources they needed to independently address any further difficulties that arose. I knew it had to be something intensive. This I found was achievable through the support and the model of MST." —Tracey D., a social worker
"In Los Angeles County, we recognize that Multisystemic Therapy drives down crime-producing risk factors and has the capacity to provide comprehensive intervention at the individual, family, peer, school and community level...Our staff developed a level of confidence in the program, so much so that it became their go-to option in an at-risk child's intervention...Kids make better decisions, do better in school, develop confidence, and families are stronger." —Paul Vinetz, Bureau Chief, LA County Probation Department
"Once I made the conceptual commitment to it, I began to see the proof that this parent-focused intervention with its resultant sustainability is an effective remedy for addressing the complex needs of children in our system. And, most importantly, it's what I'd want for my daughter if she were to find herself in the spot that so many children do." —Julie Revaz, Manager in the Connecticut Judicial Branch's Court Support Services Division (JB CSSD)
"There are young people who would definitely be heading towards the criminal justice or care system, which involves significant costs, and we've been able to avoid those. So not only do you get better outcomes for children and young people because they remain within their family settings, they are also significant savings to the public." —Saleem Tariq, Chief Officer for Children's Social Work Service, Leeds City Council, U.K.
Happy New Year from MST.