A childhood dream realized
When you were a kid, what did you want to be when you grew up? A doctor, a lawyer, an astronaut? Studies show that just 6 percent of adults end up in the careers they wanted as kids. Katelyn Jakubovic is part of that 6 percent.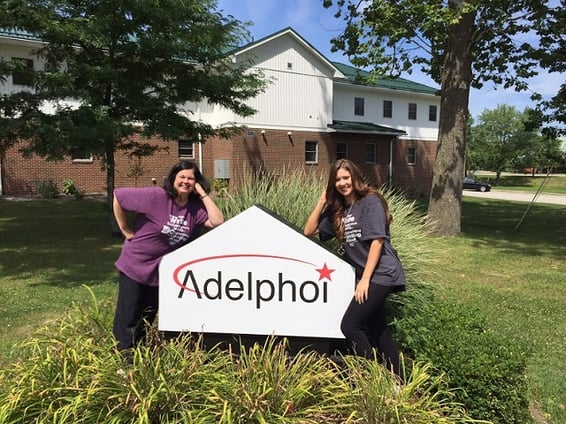 In fourth grade, like many elementary-school classes do, she was assigned a project on what she wanted to be when she grew up. She didn't want to be a doctor or a lawyer or an astronaut—she wanted to grow up to be an MST therapist for Adelphoi Village. As of this month, that dream is a reality.
But how does an 8-year-old know about Multisystemic Therapy, an evidence-based program for at-risk juvenile offenders? It just so happens Lori Moore, former MST therapist, supervisor and expert for Adelphoi Village and current manager of Network Partnerships for MST Services, is her mother. As a youngster, Katelyn looked up to her as a role model—and still does.
"Both my mom and dad were really strong leaders in our local community. My dad was the leader of Little League and mom was in the helping profession. I always looked up to them and realized the importance of being involved in your community." Katelyn grew up in a rural area of Pennsylvania, where many people who go to college leave for a bigger city and don't return to the small town where they were raised. But from a young age, she was exposed to how important staying and building up that community can be, and it instilled in her the passion to do the same.
Staying close to home is a strength
This intimate knowledge of the area is what Katelyn thinks will serve her best as an MST therapist. "It's so nice to have people from your community, who understand your local needs and what resources are available and what are not, and it helps build the relationship between client and counselor to know that your therapist truly understands your needs."
But why MST specifically? With a masters in professional counseling, Katelyn could have pursued many other pathways. But it was the MST model that drew her in. "What I love about MST is that it is evidence-based. We want to know that what we are doing works—and MST has been proven time after time. What MST does is empower families. Strong parents raise strong kids."
As for Lori, she has a few words of advice for Katelyn, too. "Trust the model. It guides and directs us. Trust your supervisor, and always stay present focused with the families. They are the experts on themselves. If you work with them and arrive at the interventions with them, they will be successful."
Thinking about a career in MST?
Not everybody gets to grow up under the same roof as an MST therapist, but a lot of people do grow up with the notion that they want to help others and make a difference in the world. To those thinking about a career in Multisystemic Therapy, Katelyn advises them to "do their homework. Speak with working MST therapists, and consider if the model lines up with what you value theoretically. It's vital to practice what you believe in."
MST is a 23-year-old treatment model, and Katelyn, 26, just may be the very first "legacy" MST therapist. We are so excited for all the families and young people she is going to impact and empower.
If you are interested in an incredibly rewarding career, go to MST jobs.
To learn more about what makes MST an effective intervention for at-risk youth and their families, download this white paper.