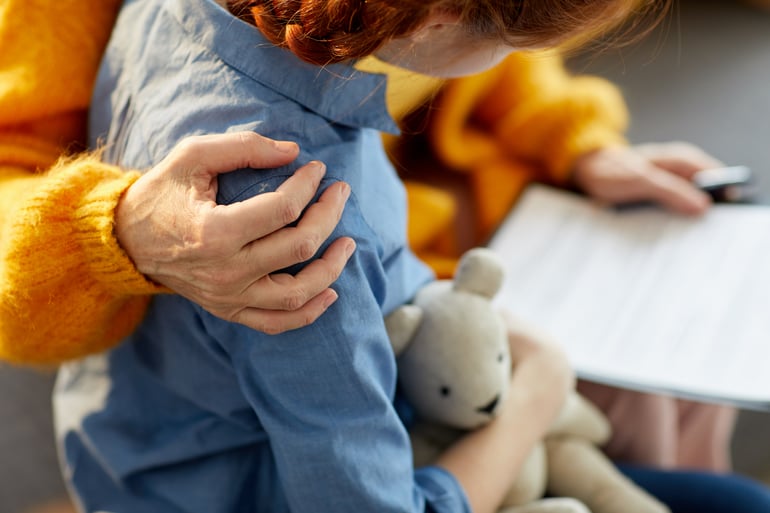 Mental health concerns are rising in all areas of the world. During the COVID-19 pandemic, youth services experienced short staffing levels, too many referrals, and increasing amounts of adolescents with severe psychological issues. By expanding youth mental health services, more disabilities can be detected and treated early, which reduces the risk of adverse mental health conditions worsening in the future.
A Mental Health Alarm is Ringing
Youth suffered from mental health issues long before the pandemic, and even then, access to treatment was limited. However, they are enduring a multitude of hardships from the ongoing effects of COVID-19 including remote education, isolation from friends and family, disruption to daily routines, and heightened developments in mental health disorders. The U.S. Surgeon General, Vivek Murthy, the American pediatrics organizations, UNICEF, and The World Health Organization have all raised awareness that children's mental well-being is becoming a universal emergency.
Research shows that the pandemic has led to a shocking decline in mental health. In America, more than 25% of high school students had worsened emotional and cognitive health, 73% of LGBTQ adolescents reported symptoms of anxiety and 67% had depression, and there was a 51% increase in suicide attempts among young women. On top of all these concerns, more than 140,000 U.S. adolescents lost a caregiver to the Coronavirus, ultimately impacting their emotions, health, and family structure. If you can't tell the alarm is ringing by reading this distressing data, Mental Health America (MHA) released a graphic in their report, 2022 State of Mental Health in America, spotlighting the most recent figures on mental health across the U.S.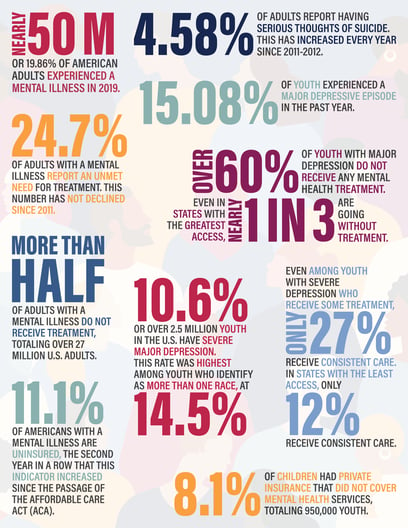 Globally, 1.6 billion children experienced some loss of education amidst the pandemic, and one in seven adolescents aged 10-19 currently suffer from an emotional disorder. According to UNICEF, among these illnesses, depression makes up almost 40% of them and nearly 46,000 teenagers worldwide died by suicide. Even more startling is that mental health accounts for only 2% of government health budgets, which in some of the poorest regions is less than $1 (U.S. dollar) per person —leaving more and more emotional disorders untreated. As a result of ignoring the warning signs, services and treatment will continue to be overstretched for our communities, but especially our youth.
Why Expanding Youth Mental Health Services is Necessary
When mental health symptoms are not treated or reported to professionals, they can become worse in the future.
Only 27% of youth with major depression received the treatment they needed in the past year, leaving over 60% untreated. Many barriers, such as a shortage of therapists and professionals, stood in the way of face-to-face treatment, leading to hospitals experiencing surges of mental health cases in the emergency rooms. Government data show that emergency visits for mental health issues in 2020, compared to 2019, increased 24% for children and 31% for teens. Moreover, many adolescents had to wait very long hours or even days before they could be admitted to a bed in a residential program. An article, Addressing the Global Crisis of Child and Adolescent Mental Health, even stated, "Strengthening these accessible mental health resources in communities for children and families would decrease use of high-acuity emergency psychiatric services, which are limited in most countries.… We must lead the charge for equitable mental health care for all children across the world."
An Intensive Youth Mental Health Service
As the world has seen the effects of COVID-19, we can now understand the impact mental health plays on all ages and genders. Through the expansion of youth mental health services, communities, families, and youth can find more access to services and treatment to identify and prevent disorders in the future. One mental health service that is research-based and proven to provide results to youth, families, and communities is Multisystemic Therapy (MST).
MST is an intensive in-home intervention for at-risk youth 12-17 years old and their families designed to address antisocial behaviors, mental health disorders, substance abuse, family relations, and more. The therapy approach includes all aspects of a young person's ecosystem and MST therapists travel to the home of the adolescent, using tailored individualized treatment interventions for the entire family and the systems that surround them. When mental health services are expanded to all populations and communities, we can start to see positive changes, especially in adolescents' futures.
The shocking truth is that until there are more mental health services available, children will be suffering in communities all around us.
Multisystemic Therapy (MST) is an evidence-based alternative to incarceration or severe system consequences due to serious externalizing, anti-social, and/or criminal behaviors. MST effectively treats youth and their families by utilizing a built-in suite of services within the home, school, and community settings. Treatment is tailored to the family and their individual strengths and needs which could include but is not limited to the following types of interventions: Family Therapy, Cognitive Behavioral Therapy, Drug and Alcohol treatment, Mental Health Services, Peer Ecology Assessment and Intervention, Trauma-informed treatment, and Educational/ Vocational Support.
If you or someone you know is interested in learning more about Multisystemic Therapy, contact us here.