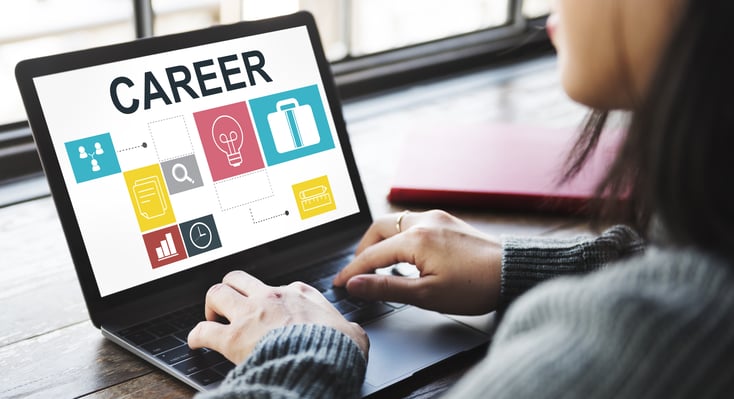 Today we want to highlight two Multisystemic Therapy clinicians that have changed career paths to better serve youth and their families in Virginia.
The state of Virginia spends more than $170,000 to incarcerate one youth a year and in 2019 there were 58,234 children reported as victims of abuse or neglect. Because Multisystemic Therapy has such a positive effect on youth and families, several organizations in Virginia dedicated to empowering communities have helped grow the presence of MST programs. One of those organizations is the National Counseling Group, which provides mental, behavioral, and substance use services. They have offered Multisystemic Therapy since 2017 and have five teams for Court Service Units in several districts.
A Fulfilling Career Path
Sonya Ramsey, a new MST therapist at the National Counseling Group in Abingdon, VA, shares her career journey.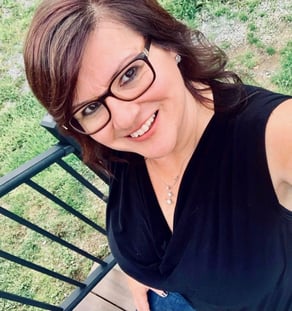 "Prior to becoming an MST Therapist, I served as Children's Services Act Coordinator for a local social services agency. The bulk of my career, however, was spent working in the law enforcement field for 28 years where part of my time was devoted to serving as Victim Services Director. It was there that my passion for creating a positive difference in the lives of those I serve was discovered. This led me to finally follow my dreams in conjunction with a career, marriage, and kids, to take on night classes, and earn my Behavioral Science degree.
Now, realizing those dreams as an MST Therapist, I strive to create a better life for the youth I treat and their families. The highest honor and pride I take in this work is how closely it aligns with my own personal values and love for the service model. In this field, I enjoy working to understand behavioral patterns and equipping clients with tools and resources for breaking the cycle of criminal behavior. I am so grateful to be a part of this work and look forward to the journey this career takes me on!"
From Police Officer to Therapist
Charles Powell was a former police officer who transitioned into an MST therapist on the National Counseling Group-Newport News team. The team was established in November 2017 and has done a phenomenal job in providing MST services to roughly 116 families over the last 2 years living on the Virginia Peninsula.
"I am not sure how to start sharing how the transition from a police officer to a mental/behavioral health therapist occurred other than from the beginning of my journey. The truth is that helping others has always been a part of my life. The problem that presented itself constantly was how best to achieve that goal and have a sense of fulfillment. After becoming a police officer, I felt confused by the repetitive responses to what I now know as mental/behavioral health issues. I had an opportunity to take a course regarding how to assist others in crises and it focused on the fact that all behaviors have positive intentions. Taking that class led directly to the instructor suggesting that counseling might be a better fit for me as a career. I initially dismissed the idea.
However, the more I thought about it, the better I felt about possibly transitioning from law enforcement to counseling. The rest is history. The MST model provides that opportunity for me to incorporate my instincts as a police officer, have a sense of fulfillment as a therapist, and be a contributing member of society."
A Testament to Hard Work
Below is a testimony from a mother who is thankful for her MST therapist, Charles, who helped her son become more responsive at home and in school.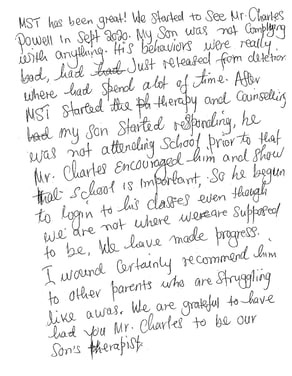 "MST has been great! We started to see Mr. Charles Powell in Sept. 2020. My son was not complying with anything. His behaviors were really bad and he was just released from detention, where he had spent a lot of time. After MST started the therapy and counseling, my son started responding. He was not attending school prior to MST and Mr. Charles encouraged him and showed him that school is important. So, he began to log on to his classes; even though we were not where we were supposed to be, we still made progress. I would certainly recommend him to other parents who are struggling like I was. We are grateful to have had Mr. Charles as our son's therapist."
Interested in MST?
Becoming an MST therapist is hard work but is worth it. MST does "Whatever It Takes" to serve youth and their families. Therapists work in the home, school, and community and are on call 24/7 to provide caregivers with the tools they need to transform the lives of troubled teens. Research demonstrates that MST reduces criminal activity and other undesirable behavior. At the close of treatment, 87% of youth have no arrests. Interested in becoming an MST therapist? Click here to view our job board!
Multisystemic Therapy (MST) is an evidence-based alternative to incarceration. MST effectively treats at-risk youth and their families by utilizing a built-in suite of services within the home, school, and community settings. If you know of someone that would benefit from MST or you would like to start an MST program, please click here.