Are we in danger of losing a generation of children from the opioid crisis
Our family lives on a picturesque island off the coast of Maine. Yet, painkillers prescribed by physicians resulting in opioid addiction and the ready availability of heroin have damaged the lives of many families in our extended social network – children of our friends, friends of our friends, work colleagues of our friends, families of our children's friends, and acquaintances in our community.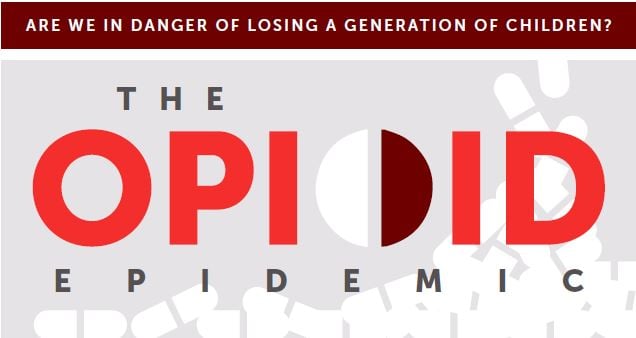 For the most part, the opioid users that we knew personally, or knew about, have not fit the negative and pejorative stereotype of "drug addicts." Many of these individuals were former high school athletes, college graduates, from well-functioning families, and basically on positive life trajectories. Others had experienced more challenges in life, but were successfully getting by – working, in meaningful relationships, and raising families.
As a substance abuse treatment developer and researcher living in New England (an epicenter of the opioid epidemic) and funded for many years by the National Institute on Drug Abuse, I was in the process of writing a blog about this challenging public health problem. During my preparation of the blog, however, Vox published an article written by German Lopez and Sarah Frostenson, "How the opioid epidemic became America's worst drug crisis ever, in 15 maps and charts."This article is an outstanding, engaging, concise, and accurate summary of the key facts regarding the opioid epidemic. My efforts to explain the crisis would pale in comparison with analyses of Lopez and Frostenson. Thus, I would like to summarize their central points and conclusions.
More than 52,000 people died of drug overdoses in 2015, and 32,000 of these were linked to opioids (e.g., Percocet, OxyContin, heroin, fentanyl).
Drug overdoses now kill more people than gun homicides and car crashes combined as well as more individuals than the AIDS epidemic at its peak.
Opioid-related deaths are increasing and are one reason why life expectancy in our nation has declined for the first time in decades.
Americans consume more opioids than counterparts in any other nation, and white Americans in New England and the Rust Belt have the highest prevalence of opioid addiction.
Physicians and drug companies are largely responsible for the epidemic. Based in part on misleading marketing by drug companies, physicians have grossly over prescribed highly addictive opioid painkillers.
As regulators crack down on prescription painkillers, many addicted individuals have shifted to heroin, which is less expensive. Heroin overdoses now kill more people than painkillers.
Although reducing access to opioids (e.g., addressing physician over prescription and drug company profiteering) is essential for a long-term solution to the crisis, increased access to evidence-based drug treatment is critical in the present.
Unfortunately, most people do not have access to effective substance abuse treatment. Many do not have insurance to pay for drug treatment, and publically available services are typically underfunded and rarely provide evidence-based interventions.
In sum, the opioid epidemic is a public health crisis caused largely by ignorance and greed. Although effective treatments have been developed, they are difficult to access. See the aforementioned websites for more details on the opioid epidemic and the characteristics of interventions that have proven effective in addressing drug abuse.
To learn more about the scale and impact of the opioid epidemic, view our infographic.