School season can be stressful. Here are 9 strategies for families to help their children succeed in school.
It's back to school season—from shopping for supplies to the sounds of early morning buses. For many young people, this can be a happy time of year, a time when they will start fresh or rejoin old classmates or re-connect with teachers. For some, the sights and sounds of crowded hallways bring a sense of excitement. But many youth—and families—do not have the same joyful anticipation. Many students and parents have lumps in their throats or experience anxiety when they think about returning to school and the concerns it brings—bullying, truancy, suspensions or exclusions, the dreaded phone call from school when a problem arises and the potential that things may escalate to involvement with child-protective services or the juvenile-justice system.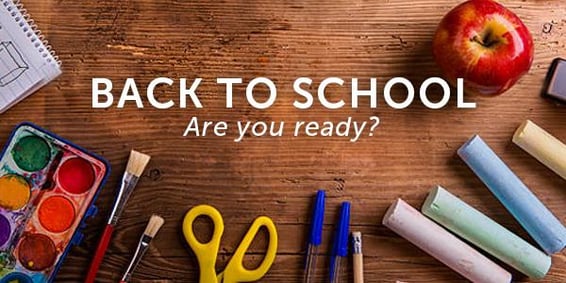 But it is also a time for educational professionals, students and parents to start school with a new perspective, a time for educators to encourage families, and for schools to develop practices of trust and collaboration that reduces school failure and exclusion so as to disrupt the "school-to-prison pipeline."
In part 1 of our blog, let's consider the part families can play.
What families can do
Read your school's student handbook. Under constitutional due-process protections and state laws, schools must notify students of what may result in an exclusion (suspension or expulsion) from school. Known as a "Student Code of Conduct" or "Policy Manual" or "Student Rights & Responsibilities," these handbooks are often available on school-district websites or handed out to students on the first day of school. They outline the school's mission, rules and discipline policies. Knowing the discipline policies can help young people and families adhere to what is expected of them. Pay particular attention to the school dress code, and help your child plan his or her school outfits accordingly. You don't want your child missing instruction time for wearing something deemed inappropriate, and you don't want to be called in to correct a "dress code don't" at the last minute. Also, know the policy for cell phones and electronics. If mobiles are completely verboten, it's better that all electronics remain at home. If your child is permitted to have electronics at specific times, make sure he understands that clearly.


Raise your concerns early in the school year. If your child has an IEP (individualized education plan) or a 502 plan (which makes sure children with disabilities receive proper accommodations), contact your school's special-education teacher or director to schedule a meeting early in the year to review the document and propose any necessary changes. If your child needs to be evaluated to determine eligibility or re-evaluated, raise these issues now. Also, specifically request "progress monitoring reports," which must be provided if your child has an IEP. You may request reporting on a quarterly, monthly or weekly basis. These reports are critically important to ensure that your child is making progress and that her IEP is being implemented.


Organize things at home to help the young person get off to a great day. Youth often need help with organization and planning for school and new routines. Also think about breakfast. It's called the most important meal of the day because it helps generate energy. Kids who eat well are kids who can stay focused. If your morning schedule is tight, plan breakfast the night before or have some good grab-and-go options so your child gets her nutrition as she dashes out the door.


Sleep = good nights = great mornings. Help your child prepare for the next day with a good night's sleep. Prior to the start of school, begin re-shaping bedtimes and wake-up times. Start getting your child up as closer and closer to his school wake-up time and in bed at a time when he can get at least eight hours of sleep. Before bed, help your child organize everything he needs for the next day from school assignments to clothing and accessories. Mornings run smoother when you planned the night prior.


Build solid study habits. Provide a place where your child can study and help her plan her evenings so she has time to complete schoolwork. Completing homework assignments improves students' grades. Ask your child what assignments and tests are coming up. Expressing your interest and support goes a long way.


Attend school open houses or back-to-school nights. It is imperative as a parent for you to know who is educating your child and what kinds of communication opportunities exist. It is well documented that positive parent relationships with teachers result in better support for your child in school and reduces discipline referrals. Also consider becoming involved in your home-school association. These communications are critical to bringing the voice of the family to the school environment.


Know your child's educational rights. Many school policies and practices comply with the rights of students. However, at times, school practices may not support these rights. As a parent, you have many options of which you may not even be aware. Learn more about student rights from your local ACLU or from other legal-rights advocates.


Don't wait—reach beyond the walls of the school when help is needed. Many communities have organizations with education advocates who can help. They know the state and federal laws, and can support and empower families and schools to solve problems together before a child faces school-discipline sanctions. If your child has a disability, connect with your state's protection and advocacy agency (e.g., Disability Rights Pennsylvania). Some jurisdictions also have parent advocate volunteers who can attend IEP meetings with you for additional advocacy and support.


Do not sign. If you are asked to sign a "settlement" or "waiver of rights," consult an attorney about it. These agreements may move your child away from school and into the prison pipeline with devastating results. If you waive your right to an expulsion hearing, you also waive your right to challenge or appeal that decision and may be adding an admission of wrongdoing to your child's education records. Do not agree to school placements that cannot meet your child's needs. If your child has a disability, a school cannot change her placement if the child's conduct was related to or the result of her disability or the school failed to follow her IEP. A school must hold a meeting within 10 days of the incident in which you will have the right to challenge the proposed change in placement.
In Part 2 of this series, we will consider how we can effectively build those positive home-school links by examining what educational professionals can do to support student success.
Maura McInerney is a senior attorney at the Education Law Center-PA, a non-profit public-interest law firm whose mission is to ensure access to quality public schools for educationally at-risk students across Pennsylvania. For more information, visit www.elc-pa.org, or follow @edlawcenterpa on Twitter.
Multisystemic Therapy, a proven cost-effective program that keeps at-risk children at home, in school and out of jail can help youth at-risk of entering the juvenile justice system.
Contact us now to get the all the facts and information needed for funding and organizing an MST program.