What kind of discipline is most effective in schools?
One of my favorite things about social media in August is seeing all the back-to-school photos from my friends and family. It seems like everyone is shopping, planning and gearing up for a successful school year. Amid all the shopping, I see memes about school discipline. Some clearly advocate for little to no tolerance of student misbehavior while others seek a softer approach.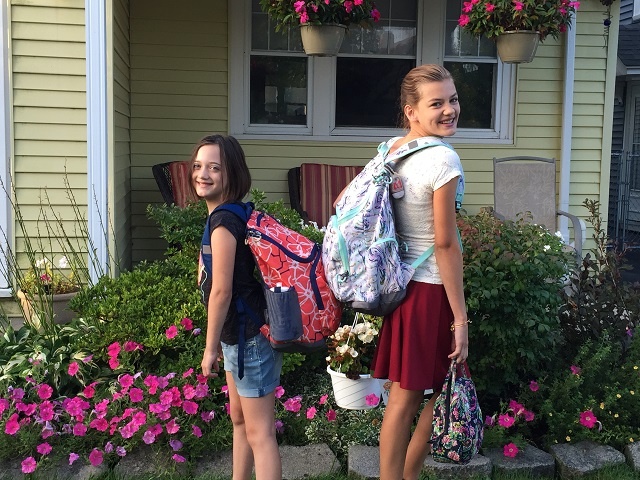 One of my favorite back-to-school pictures from this year
Chad Donohue blogged about an exercise he did with a graduate class he was teaching. Mr. Donohue asked the students, who were pursuing advanced degrees to teach, how a teacher should handle a child who didn't bring a pencil to class. The class was broken into small groups to work on the scenario. When they returned to the large group discussion, the small groups suggested punitive measures to address the pencil-free student, ideas that ranged from calling parents, to taking an item from the young person, to assigning lunchtime detention or clean-up duty.
I laughed out loud at the punitive measures, as I'd just been at a conference where at least four of the adults at my table didn't have pencils or pens with them. My job as a Multiystemic Therapy expert involves a good bit of travel, and I always seem to have a purse full of hotel pens. When my fellow conference-goers didn't have pens, I reached into my purse and passed some out. I didn't confiscate their personal items or demand that they do clean up at the end of the day. I just handed over the pens.
Mr. Donohue had a similar suggestion for his graduate students. If a student comes without a pencil, give the kid a pencil.
10-year-old goes viral when he mows lawns to buy school supplies
Earlier this summer, a story about Tyran Bell, who set out mowing lawns for school supplies, went viral. While Tyran didn't have notebooks and rulers, he did have initiative and an entrepreneurial spirit. And a whole community, a whole community, set out to give Tyran, not just a pencil, but a ton of supplies to send him off to school. He had so many donated items that after gifting his brother, he's distributing the rest to kids in need. (If Tyran's story inspires you to donate, there are opportunities to give a kid a pencil at community centers and retail locations everywhere. My husband and I are participating in our Knights of Columbus' drive.)
A new documentary, "Paper Tigers," features a school, Lincoln Alternative High School, in Walla Walla, Wash., that is approaching student discipline with trauma-informed practices. These recognize that young people may be living with toxic and chronic stress that causes brains and bodies to respond to seemingly small triggers with extreme fight or flight responses.
The Atlantic featured Lincoln Alternative School in a recent article that profiled a young woman, Kelsey. Kelsey had a challenging set of life circumstances and while at Lincoln, was in a fight with another student. Instead of being arrested and expelled, an approach taken by schools every day, Kelsey was handed a bottle of water and given time and space to calm down. In the article, Kelsey talks about how surprised she was by how the situation was handled. Read the full article for her perspective. Spoiler alert—she was not involved in another fight while at Lincoln.
The results at Lincoln and other schools are providing evidence that when young people with trauma are approached calmly, treated with kindness, given time and space to calm down and reflect on their misbehavior, there are good outcomes.
Soft approach may be tough on crime
So, while some people consider this 'soft,' what looks soft might just be what's tough on crime, according to Steven Teske, chief judge of the Clayton County, Ga., juvenile court. 'You want to know what's tough on crime? You measure what's tough on crime by the program's ability to minimize the number of victims in your community. And it's what looks soft that's tougher on crime.'
And that's what they realized in Lincoln, schools with fewer discipline problems can focus on the ultimate goal of educating our youth.
Learn more about the cost-benefit of MST for families and societies by downloading this white paper.