May is Mental Health Awareness Month—a time devoted to promoting mental-health well-being. This year youth suicide and self-harm are top focus.
Seven years ago, tragedy struck Woodbury, Minn., when five suicides occurred within the first six months of the year. "After the last suicide, my community was grieving and broken," said Dr. Renee Penticoff, co-founder and president of the Suicide Prevention Collaborative (SPC) "I felt I had to do something." And indeed she did.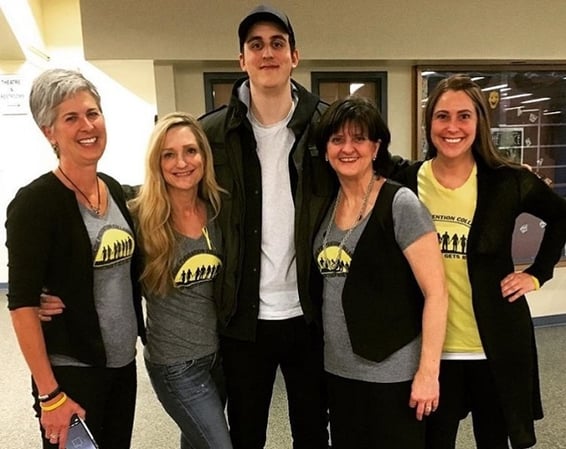 Dr. Renee Penticoff, second from the left, with volunteers from the SPC
Dr. Penticoff started as a Multisystemic Therapy (MST) therapist in 1996. For the last 12 years, she has been the supervisor of a team serving Minnesota's Washington County. Her passion and compassion for working to improve the lives of youth and families drove her to collaborate with pediatricians, educators and mental-health professionals—all outside her role as an MST supervisor—to establish the Suicide Prevention Collaborative. The SPC is an all-volunteer nonprofit organization that is dedicated to preventing teen suicide in the eastern metro area of the Twin Cities.
SPC's efforts are designed to 1) educate the public about the magnitude of suicide in their community; 2) increase awareness of the need for identification and treatment of at-risk youth to prevent suicide; 3) increase understanding of the symptoms of mental illness and the warning signs of suicide; 4) increase awareness of area mental-health resources and how to access them; and 5) collaborate with community partners to establish successful integrated suicide-prevention programs.
Getting past a suicide myth
There are many myths about mental illness, and suicide is no exception. According to Dr. Penticoff, one suicide myth is that talking about it will increase the risk. "It's the exact opposite," she said. Showing genuine concern by asking simple, direct questions like "are you feeling suicidal" or "have you ever felt like hurting yourself" are invitations to talk about the factors that put youth at risk of suicide. The SPC's founding members are certified to teach QPR (Question, Persuade, Refer), which is a program that teaches ordinary citizens how to recognize a mental-health emergency and get a person at risk the help he or she needs. It's an action plan that can result in lives saved. QPR's research and evaluations to date have shown positive results.
Suicide doesn't have to be a leading cause of death among teens. Efforts like those of the SPC can and do make a positive impact. While it is impossible to know how many lives are saved through their efforts, they do know that that the number of suicides in their community has dropped. "We have to believe that doing something is better than doing nothing," Dr. Penticoff said.
SPC efforts well received
The fundraising and educational events sponsored by SPC have been very successful and very well received in the community and as a result, motivate the volunteers to keep working. "Because we are all volunteers, it's sometimes hard at the individual level to stay energized and motivated, but something inevitably happens that reminds us of the good work we do to save lives. So we support each other, and that keeps us going. A colleague of mine once said, 'Every loss has meaning, and you'll find in this work that sometimes it takes a suicide to get people motivated to do something.'"
Dr. Penticoff said, "A significant barrier to kids getting the help they need is people not feeling comfortable talking about the subject [suicide]. Kids are talking about it among themselves, and social media has sometimes made it easier to talk about it and sometimes made it more toxic because they don't have the resources to support each other. So if adults are comfortable talking to kids about their suicidal thoughts and struggles, then the kids are going to feel more comfortable talking to adults when they need to."
When asked to summarize her thoughts on suicide prevention, Dr. Penticoff said, "It's OK to talk about suicide out loud. It's OK to ask for help. Together, it gets better."
The SPC website provides a list of several national resources. And if you or someone you know
is contemplating suicide, call
1-800-SUICIDE
(1-800-784-2433) or
1-800-273-TALK
(1-800-273-8255).