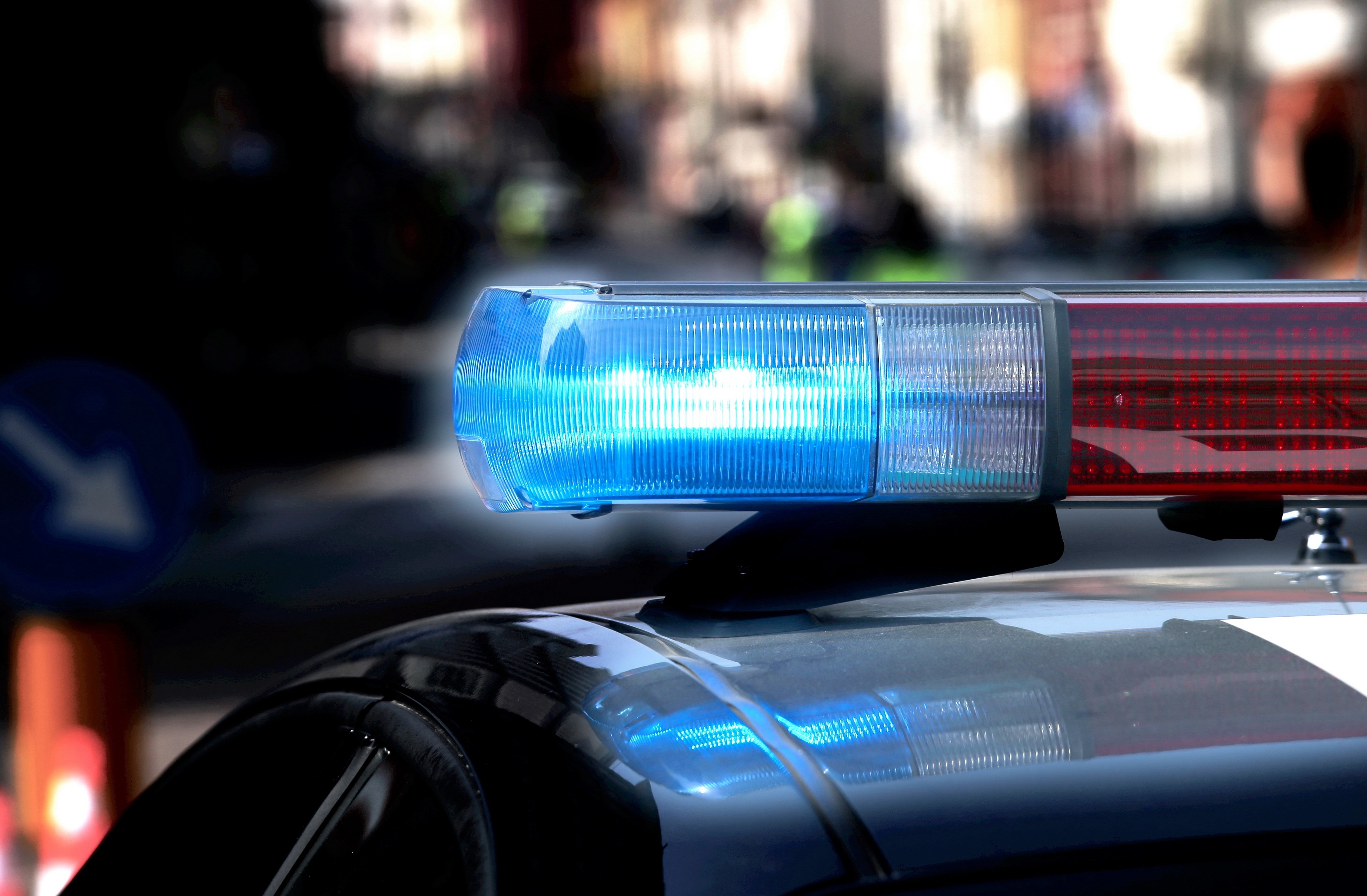 Joining Forces to Tackle Delinquency
There are troubled youth everywhere. Big cities. Little towns. Halmstad, Sweden.
Halmstad is a port city on the country's west coast with a population of more than 90,000. And as is the case in so many places worldwide, there is a drug problem among adolescents. How is the city dealing with it? One way is through collaboration between police Officer Thomas Turesson and the Halmstad Multisystemic Therapy (MST) team.
Officer Turesson has proved himself important to many people working in the city's social services. He has a wealth of information and keeps the team up to date on what's happening on the street. One thing MST therapists make sure to do is warn parents about new drugs teens may be using. Officer Turesson keeps a list of what police are coming across. He shares that information with the MST team so that the therapists can educate caregivers on what their children may be using or have access to.
He is also readily available to check out 'safe houses'—spots where kids can stay overnight without parental permission. Many kids who leave home seek out these locations thinking they're safe from being tracked down by an adult. In reality, 'safe houses' are not so safe, and actually pose a threat to the safety of those inside. If an MST team member sees signs of drug use and other undesirable behaviors potentially happening within these houses, Officer Turesson goes by to see what's going on. Parents will also check out the address. Having the police and caregiver knocking at the door discourages bad behaviors.
Jenny Langguth, an MST Supervisor for the Halmstad, Sweden team says Officer Turesson is invaluable when it comes to teaching parents what they can do to scare away dealers, while at the same time motivating the youth to keep away from bad influences.
"When I started MST, he was in a special group committed to youth involved in criminal behavior. Thomas has always had a focus on youth and was always so easy to reach, so we continued contacting him."
Understanding MST's Purpose
A challenge that MST team members often face is explaining to other professionals what Multisystemic Therapy treatment is all about and what happens during it. MST clinicians must fight a prevailing attitude that the best solution is to remove youth from their homes and send them away.
Langguth says, "We struggle with all people—school, police, executives. All they see is the bad behavior. We need to inform them about what is actually happening and that MST is a better solution in the long run to keep the young person in the home, school and community."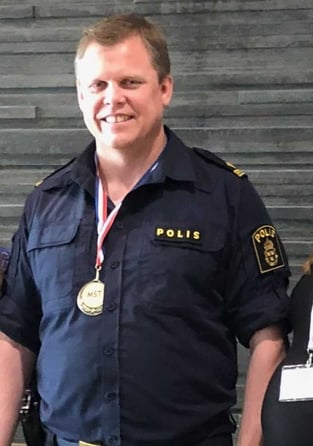 Officer Turesson (pictured left) understands this. He keeps in contact with the parents and sees the dynamics in the home. This leads to a better picture of what happens during the MST intervention. And it leads to a two-way street of information. "What we get from Officer Turesson is a bigger picture because he is working with the same group of kids in a different position," says Langguth.
MST Halmstad was so appreciative of everything Officer Turesson did, and continues to do, to help the children in the program. So it should come as no surprise that he was nominated for a WIT (Whatever It Takes) award—given to those who have demonstrated an outstanding contribution to the MST community. Officer Turesson accepted his award at the recently held MST European Conference in Malmo, Sweden, and is a lasting example of how successful MST is, especially when several members of a community come together to support it.
Langguth recommends other MST teams reach out and connect with police. "It's better to contact them with small questions or small bits of information initially than to meet them in crisis. Don't be shy or afraid to contact them with something small. Look for someone with a similar mindset and who wants to see a change in these kids. Like Officer Thomas Turesson—he doesn't see them as bad kids. He just sees the need to help them."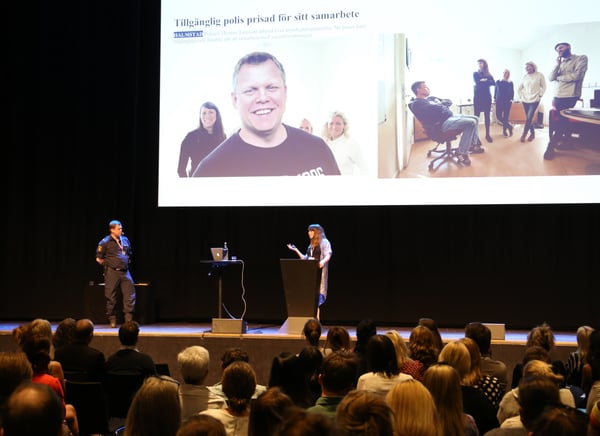 Officer Turresson receiving his award at the MST European Conference