What does it take to be an award-winning MST therapist?
It takes a special type of person to be an MST therapist. Requirements? Supreme empathy. Intuitiveness. The sleuthing power of Sherlock Holmes to uncover the mysteries of why a youth is acting out. Diplomatic skills to get an entire family—and even the extended community—on board with the program.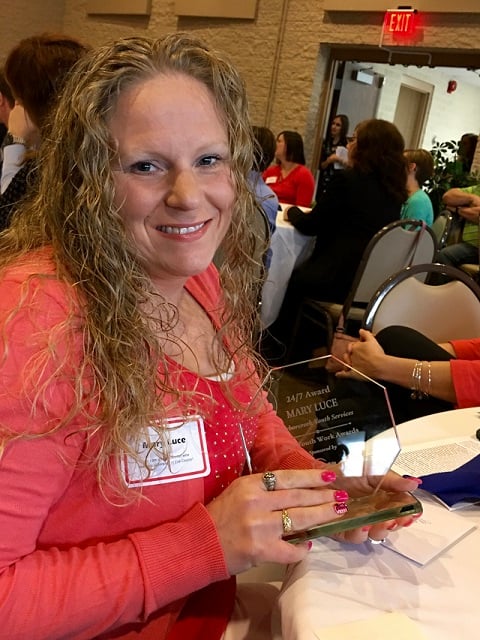 This describes Mary Luce, pictured above, an MST therapist who works for Erie, PA's Harborcreek Youth Services Multisystemic Therapy program. And that's why she was honored with the 24/7 Award.
The award is given annually by UnifiedErie, an organization dedicated to reducing crime and violence in Erie County. It is meant to recognize "the front-line, hands-on, boots-on-the-ground individuals" who work with youth and children in the county's non-profits.
Mary has shown again and again how intent and adept she is at giving families the ability to do "whatever it takes" to turn around their young person's negative behaviors. As she sees it, it begins with developing a trusting relationship with all the adults in the young person's life as they are the keys to addressing chronic, anti-social conduct in adolescents. From the moment Mary is introduced to these adults, she gets them to realize they "are all in this together." They now have a partner who is willing to support, encourage and coach them to their desired outcomes. With Mary on their team and through hard work, things can get better.
As treatment begins, Mary assures the adults in the young person's life (at home, in school and the community) that she understands and appreciates the position they have found themselves in. There is "no blame" and "no shame," only understanding what is causing the youth's chronic, bad behaviors. She uses the family's, school's, peer and community's strengths, to leverage change.
Adolescents are great manipulators
One important lesson she shares is that often young people have become successful at making "adults go away," working very hard at taking away their power. They make parents feel weak by withholding information about peers, school and things they are doing. It means moms and dads of troubled adolescents operate in the dark. We all know what happens when we operate in the dark—chaos and confusion abound. Mary says that once families get a clear picture of what is behind the child's behaviors, bringing factors in school, home, peers and communities to light, they are able to rearrange the youth's ecology, make changes, hold fast and watch the response.
Mary likes to tell the story of when she helped empower a mom to go where she never thought she could. Her son would often sneak out, use drugs, and hang out in an unsafe part of town with less-than-reputable friends. At first, mom had no idea where he was going or who he was with. Through coaching and support, she got the peers' names from her son and learned where they lived. Initially, mom told Mary she would never be able to retrieve her son. This would be very uncomfortable for her. Mary continued to help her think this through.
She wanted her son safe—"yes."

She wanted her son to come home—"yes."

She didn't want him to use drugs—"yes."

Those friends were not the ones she wanted her son to have—"yes."



Role-playing works
Then what was really getting in her way? Once they got to the bottom of mom's fears, she and Mary practiced and role-played what mom was going to say and do the next time her son disappeared.
True to form, the boy left home. When mom called Mary, this time she said, "I am putting my shoes on and going out the door." She went to find her son and called him from a distance, "You need to come home now." Sure enough, to spare himself from embarrassment, he walked to his mother and went home without any problem. Avaluable lesson was learned. "No matter where you go, where you hide, we will be there to bring you back safely."
Thanks to Mary Luce, and all the other therapists who put their skills to work every day, building confidence and courage in the parents, grandparents and caregivers. With the tools provided by therapists, families can prevent further escalation into the juvenile-justice system, keeping their children at home, in school and out of trouble.
To learn more about what makes MST such an effective intervention with at-risk youth, download this white paper.