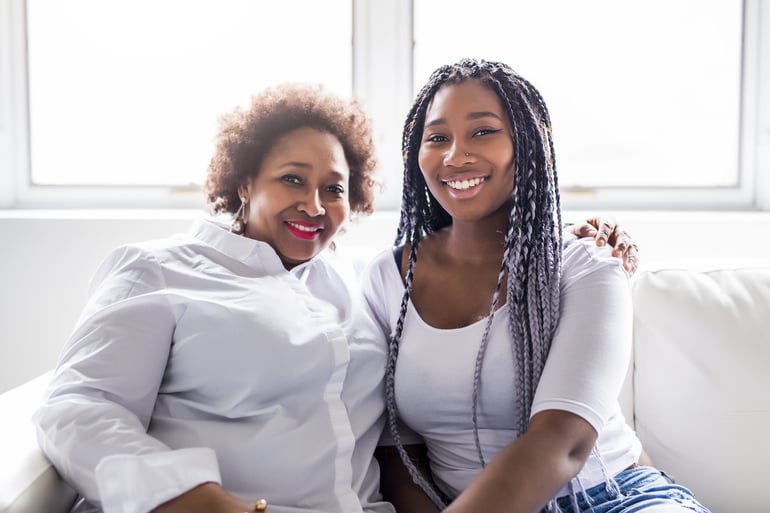 Today we are sharing the story of a mother who was skeptical of Multisystemic Therapy (MST), but is now thankful for the tools she has received because of the program.
Note: Names have been changed for confidentiality.
"When I first learned of MST Services, I was willing to give it a try because it was something new and different. I also liked the fact that they come to your home to provide treatment for your family. When I first met our therapist, Ms. Harris, I liked that she was very pleasant and respectful towards me. She never once made me feel as if she was judging me.
My Child Connected With Our Therapist
After sitting and talking with her during intake, she did a very good job of explaining things to me in detail. She answered every single question with ease. I kind of felt like it was scripted, so I agreed to continue with the in-home service as a challenge, to see if all she told me would come true and I would see a change in my daughter like Ms. Harris told me I would. I also noticed and liked how my child took to and clicked with Ms. Harris, as opposed to previous workers and therapists whom she didn't mesh well with at all.
As treatment moved along and interventions were introduced, I will admit that I was very, very standoffish and against everything. I gave Ms. Harris a hard time. I really was against the behavior plan, especially because of the "rewards" portion. It made me feel like I was paying my child to behave when she should just behave. I didn't realize I was even implementing the same plan I was against, but Ms. Harris had a way to have me follow it without me even realizing it.
Learning to Trust the Process
One day, I realized that it was actually working when my daughter started changing all her behaviors, like following the rules, communicating better, coming home on time, and looking forward to her rewards at the end of each week. That's when I really knew it worked. It helped me to further trust Ms. Harris and Multisystemic Therapy, and I am glad that I did because she has helped and supported me and my children in so many ways.
My daughter is like a new person, and it's a good feeling because I get to enjoy her again. We spend a lot of time together, she is home most of the time, and we don't fight and argue like we used to. Ms. Harris also helped me realize that there were things I also needed to change about myself in order to help my daughter. Again, I was reluctant at first, but it truly worked. Being referred to MST is something that I will be forever grateful for because I finally got the help I was seeking for a long time. I am sad and heartbroken that y'all took my Ms. Harris LOL, but I know I have the tools I need to help me if I ever need them again."
Multisystemic Therapy (MST) is an evidence-based alternative to incarceration. MST effectively treats at-risk youth and their families by utilizing a built-in suite of services within the home, school, and community settings. Services include but are not limited to: social skills training, drug and alcohol intervention, mental health services, and peer management.
If you know of someone that would benefit from MST or you would like to start an MST program in your area, please click here.