MST therapist helps father through difficult time and nominated him for WIT award
As any parent today will tell you, it is hard enough to raise a teenager under the best of circumstances. What we know in Multisystemic Therapy (MST) is that sometimes, no matter how hard we try, help is needed to achieve the hoped-for results. In those troubled times, it can be more painful if the help you seek doesn't make things better at all.
But that isn't always the case, as one New Jersey father can attest. He was in desperate need of help handling his daughter. Luckily, he was assigned MST therapist Lionel Latouche.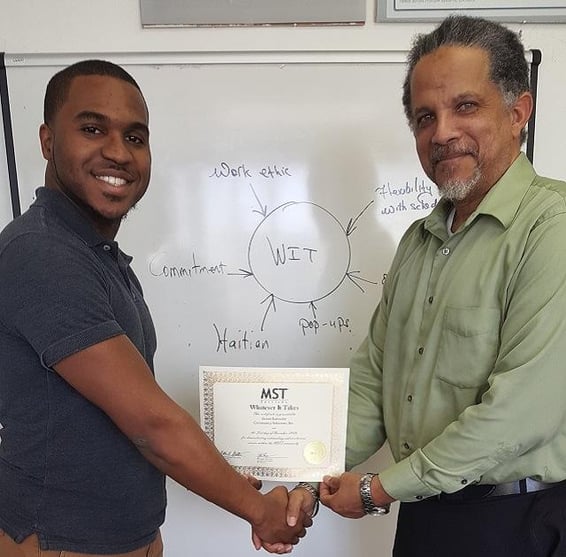 Above, Latouche is shown receiving his WIT award from his supervisor
A list of skills and attributes that make an MST therapist excel
The father credited seven strengths of Lionel's for getting the family on the path to becoming functional and happy. They are:
1) Genuine interest in deeply understanding the dynamics of this family and its individual members. This required very acute perception and identification of the problems.
2) Strong ability to listen on many levels.
3) Providing very valuable advice regarding parenting skills.
4) Building a strong relationship of trust and empathy with the daughter that enabled Lionel to provide her with very positive guidance and a strong role model. He was able to help her deal with her deep anxieties and stresses, develop better communication and social skills, become more independent in thoughts and actions, participate in activities, and attend and excel at school.
5) Impartial and unbiased view, strong positive communication and evaluation of the problems that helped the family participants self-assess how each impacted the problems.
6) Flexibility in views and approach to solving problems.
7) Always accessible to deal and intervene with new and ongoing situations.
Lionel learned just how much of a positive influence he had on the family when the father wrote a letter to his supervisor at the Hudson/Essex County MST Team, Community Solutions, Inc.
In the letter, Lionel was described as "superb." The father also wrote that it had been a real pleasure working with Lionel.
Although several issues remain to be solved, the MST therapist had a very strong and positive impact. The father reiterated that Lionel ranked "very highly compared to all other professionals" the family had worked with.
Congratulations to Lionel and this family on their progress.
Many more WIT awards will be presented at the MST International Conference on March 6 and 7 in Charleston. Today is the last day to register. Don't miss out on this great event!
The MST "WIT" program of MST Services recognizes individuals within the community who have demonstrated outstanding and meritorious service. Nomination to the WIT program serves to recognize the hard work and willingness so many in our community do that goes above and beyond. According to Community Solutions Inc. and a grateful parent, Lionel is one of those special people.