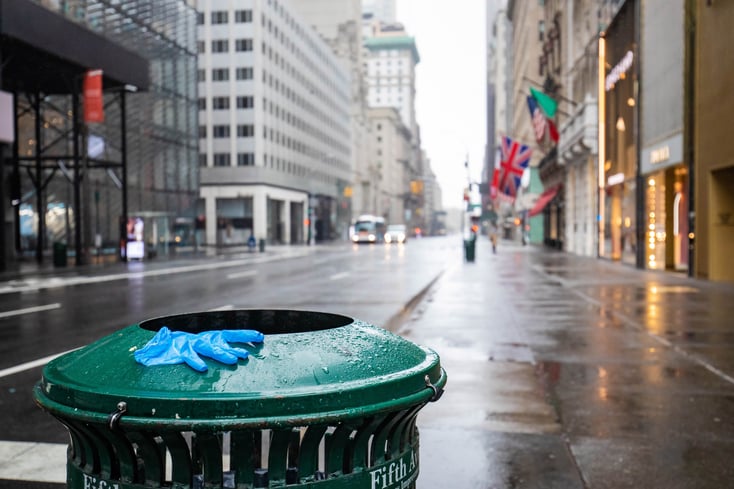 Thanksgiving is often a time of reflection and gratitude in one's life. Today we want to share an update from a Norway Multisystemic Therapy Expert, Ingvild Stjernen Tisløv, about providing MST services during the Coronavirus Pandemic.
Being responsible for a home-based service in child welfare during COVID-19 has been a balancing act between ethical dilemmas, legal constraints and pragmatism. The experience so far is that if we are to crack the virus and at the same time safeguard the most vulnerable in society, we must have an approach where the client – not the fear – is in the driver's seat.
Like other outreach services, Multisystemic Therapy (MST) requires therapists to meet people where they live their lives. Common to our families is a high degree of conflict, but the reasons are different and complex. We have families where the caregiver is dealing with a mental illness. We have young people who are raging and youth who use violence. We have families where the caregiver drinks. We meet resourceful parents who are close to giving up, police who want young people away from the community, teachers struggling to exercise reasonable authority over students, and child protection services who think that moving the young person to an institution is the next stop. Our therapists are determined to meet youth, families, and communities where they are and start the progress there.
Home-based Help in Time of COVID-19
During this period, we are now getting to know families over video, which means that we start treatments where the therapist and the family have not met face-to-face. One challenge is alliance building with families who are skeptical or dismissive of accepting help. How do we create safe relationships over the internet? Currently, it may seem that the state of emergency contributes to a common focus – the most important thing for many families now is to make everyday life hang together, and when the therapist can assist them in this work – in particular, in creating structure and support in its implementation – the relationship can grow stronger.
There are reports of increased conflict as a result of more people in the household being kept at home, but there are also some families who handle everyday life better now than before. The strain is particularly high in families with low socioeconomic status with little social support networks and where relief opportunities have fallen away due to infection control. Examples of conflict that have happened in households include, a family of 5 in a small apartment walking on top of each other, leading to bickering, and a heavily pregnant mother finding her daughter threatening to drag contagion into the house if she doesn't give in to established expectations and routines. However, another parent finds that their son finally stays at home, and the 14-year-old who hasn't attended school for many weeks is now following up on online schoolwork.
There is a concern that more people are exposed to violence and high levels of conflict at home, and our therapists have family safety at the top of the priority list. They have extensive experience in helping families to draw up and follow conflict management plans, security measures, and urgent inquiries, but it is demanding not to be able to use networks such as neighbors and other family in the plans. However, MST therapists have been creative in order to reach the families they work with. Therapists meet the families outside, they have meetings in the car with the door open and two meters (6+ feet) to the parent's car, they go for walks with a good distance between themselves, they stand outside the home talking on their phone so the caregiver can see them and follow clear instructions for infection protection/ hygiene measures. They never give up using their "Whatever It Takes" Attitude, and for that we say thank you.
Stories From Therapists Around the World
Featured are heartfelt stories shared from therapists located in Chile and New York City during the pandemic.
Chile: "Throughout the pandemic Chile has been under one of the strictest quarantines in the world, but our MST clinicians have requested and received permission to visit families in-person when needed. They have maintained high caseloads (4-6) with the goal of supporting as many youth and families as they can. They have helped to assemble and deliver food boxes, have covered caseloads for team members who are ill, and have prioritized sessions with MST families while they are taking care of their own children and families. I was amazed to discover that they have also improved numerous outcome markers while working from home during the pandemic. I am thankful to have the opportunity to work with such an amazing group of people who care about the families they work with enough to give their very best no matter the circumstances or barriers." – Kellie Allison, Manager of Network Partnerships
New York City: "When a team of therapists in New York City had caseloads of families that had relatives that were diagnosed with COVID-19, the team had specialized care packages delivered to them that included basic medical items like thermometers and oximeters, hygiene supplies, disposable utensils and plates, and food. The team also helped their clients stay in contact with medical providers and supported those who lost extended family members. During this difficult time therapists' commitment to caring for their families is noteworthy and appreciated by the families served." - The New York Foundling MST-SA teams, funded by the Administration for Children's Services' Family Assessment Program (FAP)
The Way Forward
Throughout this season, we have seen the flexibility and action of therapists and supervisors where one goal has been more important than anything – to continue to provide good help and support to families in crisis. The supervisors describe an optimism in both families and therapists that this new approach can work. MST therapists have proved to perform the MST model successfully despite the challenges faced this year. MST Services is thankful for the impact our therapists and teams are making in youth and families lives around the world. And thanks to the families who open their lives to us and to the communities who continue the critical work we do.
Multisystemic Therapy (MST) effectively treats at-risk youth and their families by utilizing a built-in suite of services within the home, school, and community settings. MST continues to guide troubled youth in a virtual environment during Covid-19. MST is delivering services through social distancing and telehealth methodologies such as telephone and/or video-based options.
If you know of someone that would benefit from MST or you would like to start an MST program in your area, please click here.