His humility shows first and foremost
Let's talk about Fuzi Bradshaw—an outstanding Multisystemic Therapy (MST) clinician and father.
When you first meet Fuzi, you are struck by his humility. He talks with humble pride about the work he does with MST families in the Nottingham community of England. He talks with that same pride about his own family and the lives that he is shaping as a father.
Fuzi is a recent recipient of the MST Sustained Excellence award (an ESSY) for his overall adherence to the MST model as determined by the MST Therapist's Adherence Measure.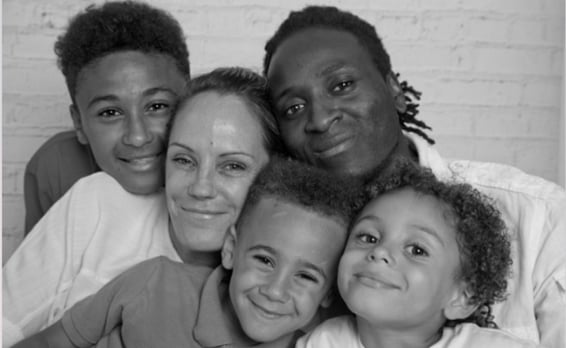 He was recognized for being an outstanding MST clinician, among the top 1 percent around the world. However, when you spend any time with Fuzi, you quickly come to realize that it is not just his work in MST that brings him great joy, but it is also his family.
On being a father and an MST therapist
"I wanted to work in MST so that I could make an impact and work with families to build stronger relationships with each other and within their communities. But being a proactive dad and an MST therapist requires flexibility. I spend a lot of time learning how to find a balance between meeting the needs of my own family and meeting the needs of my MST families. My sons understand that their dad's job is to help others, and I think they are proud of the work I do. Although after hearing an interview I did once, they started telling people that 'Dad works with drugs and guns'!
"Raising three boys can take a lot of energy, and I try to foster MST strategies to keep my sons involved in pro-social activities and away from anti-social peers. I manage and coach their football teams. This gives us great quality time together. I think it is important that they see me as a role model for what it is to be a loving father and man."
Understanding family problems
Fuzi has been an MST therapist for three years. He is highly dedicated and has engaged with families that often face many complex barriers when trying to work with services. Fuzi never gives up. He first seeks to understand from the family's perspective what is going on in their lives. This understanding helps him find collaborative ways to move beyond or around barriers. Many families have said that they feel Fuzi understands the difficulties they are facing, and he works tirelessly to provide interventions that are co-created with the family. In times of crisis, Fuzi gives hope and remains strength focused, enabling families to rebuild relationships and for young people to re-engage in pro-social activities, school, educational systems and with their communities.
Fuzi works hard to apply the same lessons learned as a father to the work he does in MST. He sees the value of empowering carers so that they may support their children in making pro-social choices.
Our hats go off to Fuzi, and the many other MST therapists and supervisors who strive to balance being parents/caregivers to their own families and helping other parents/caregivers do the same. If you know of an exceptional caregiver that we should highlight on our blog, send an email to stories@mstservices.com.
Donna Stenton-Groves is an MST Supervisor for the Nottingham City Council in Nottingham, UK
To learn more about what makes MST an effective intervention, download this white paper.