Stella and Paul were losing control of their adopted son, Charlie.
He was becoming violent and affecting the whole family. Luckily, they found a partner to work alongside them and keep their family together.
Stella and Paul have children ranging from age 37 to 12. Their two youngest, Brenda and Charlie, were adopted from foster care and have special needs.
"In our naiveté, we thought, we're going to adopt these kids and bring them into a loving home. Then, they'd be just like the other kids we have," said Stella. "But we didn't realize that at a young age, there's so much that they already picked up that we can't change."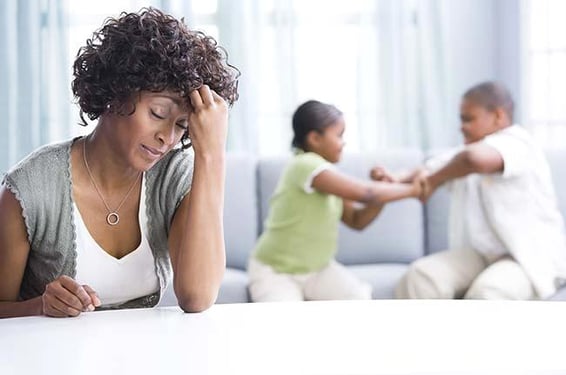 As Charlie grew older, he became violent and unmanageable. He had no respect for his older siblings and refused to listen to his parents. When Michigan's Child Protective Services (CPS) got involved, Stella and Paul knew something had to be done.
"We were starting to lose control of our house," said Stella. "We couldn't keep doing it anymore. Thankfully, CPS referred us to Highfields' MST program."
Multisystemic Therapy (MST) is an evidence-based treatment that addresses the many systems in a child's life (such as home, peers and school).
Therapist involves entire family
MST therapist Morgan Guy met with the whole family at their home. They went around the room and discussed what challenges they face and what they'd like to see changed. Stella was impressed with how Morgan listened to everyone and made it seem like a team approach.
"We finally felt like we had someone who was willing to listen and work alongside our whole family," said Stella. "We actually had a partner and more than just a therapist."
Morgan identified that Charlie needed more boundaries at home. He wasn't following through with his chores, homework or exhibiting good behavior because he didn't know what the expectations were. Morgan helped the family implement a rewards-and-consequences system to motivate Charlie to keep his behavior on track. He was involved in the process and helped pick out his rewards, which included skating, going to the movies and bowling.
"MST definitely helped me," said Charlie. "I know that if I want the reward, I have to earn it."
Charlie also struggled with learning disabilities. He suffered from depressive symptoms, and things occurring in school contributed to these. Morgan and the family came up with a plan to meet with his teachers. They explained the challenges that the boy was having and got him into three adapted classes that better fit his needs. It's made a big difference and has taken a lot of stress off him.
Morgan worked with the family and school together to make sure that everyone was clear on what Charlie's expectations were for home and school. She also instilled in them the tools to handle situations that may occur in the future.
"MST was truly an answer to our prayers," said Stella. "It is the first resource that we've had that involves our whole family, and that is very important to us. It's been a huge success."
Laura Jurasek is the communications and marketing specialist for Highfields, Inc.
To learn more about what makes MST an effective intervention for at-risk families, download this white paper.