How MST Came to New Mexico
In 2003, New Mexico's Children, Youth and Families Department (CYFD) decided to shift their financial resources away from residential treatment and incarceration. Instead, they wanted to invest in programs that would keep youth at home and produce more sustainable outcomes. Stakeholders were impressed with MST's evidence base and results, and decided to implement the program statewide.
CYFD leveraged funding from several sources to develop and fund teams. The department used a combination of Mental Health Block Grants and Juvenile Accountability Incentive Block grants to fund the initial development of MST teams. Operational costs were then funded both through Medicaid, as well as state funds earmarked to provide services to non-Medicaid eligible youth.
New Mexico started with pilot MST programs in Santa Fe and Albuquerque, and after those teams demonstrated successful outcomes, the program was rolled out to rural and urban communities across the state. The success of the program was undeniable, and it wasn't long before Managed Care Organizations enthusiastically got on board with the new service and partnered with CYFD to recruit additional provider agencies.
MST Champions
At the state level, members of CYFD support delivery of MST, help agencies find funding opportunities, and promote creative ways to expand service-delivery options for youth who are not eligible for Medicaid.
At the local level, directors of provider agencies play a key role in the success of MST in New Mexico. They trouble shoot implementation challenges, and use their networks to spread the word about MST. The Center for Effective Interventions coordinates these efforts across agencies and co-directs a statewide steering committee to promote best practices across the state.
"I became increasingly skeptical that all the funds we were spending were actually helping our clients. This is when I began looking for alternatives. Alternatives to out of home placement and alternatives that were evidenced based. MST became our go to program for both of these objectives".
- Ken Warner, former Chief, Children's Behavioral Health Bureau
Strengths of MST in New Mexico
Above all else, providers in New Mexico are committed to delivering the service effectively in all corners of the state. This commitment to the model has fostered a deep sense of collaboration and partnership between providers, who have formed a strong support network to help each other overcome challenges. The providers meet quarterly to celebrate each other's successes and strategize solutions to implementation barriers. This eagerness to work together has resulted in significant advances over the past year, which have helped providers deliver MST more effectively. The importance of providers who are willing to collaborate – and not view each other as competition – is crucial to supporting a robust MST program that will sustain for years to come.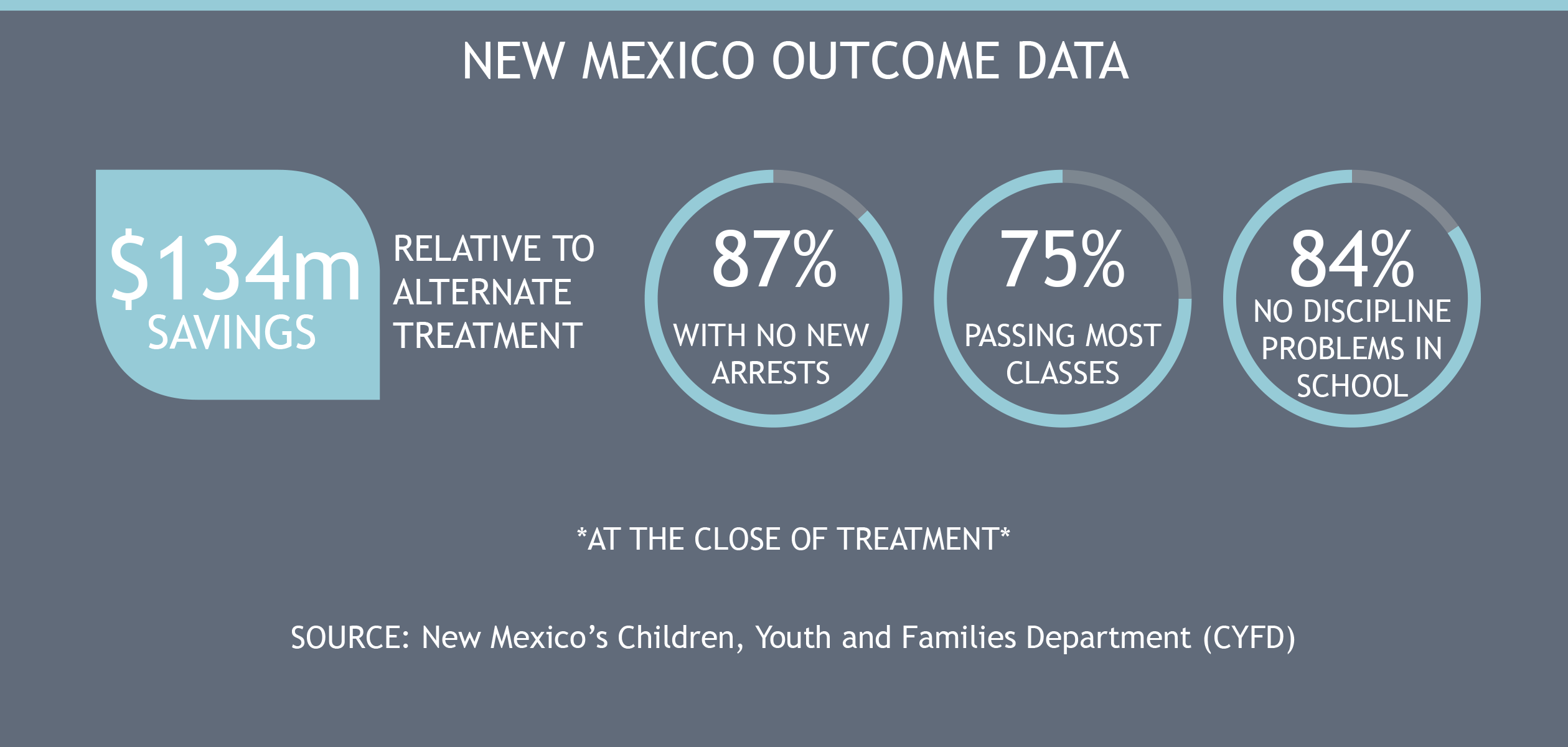 MST in New Mexico: Lessons Learned
MST therapists are at the heart of the program's success, and New Mexico's MST teams have found that attracting qualified applicants for therapist positions requires a lot of hard work and collaboration. While recruitment can seem like a huge challenge, particularly in rural areas, New Mexico has learned that leveraging their MST support network can help overcome this obstacle. Their teams take proactive steps to facilitate the recruitment process by partnering with local colleges and universities to share information on MST, and by finding opportunities to present the successes of MST at regional conferences. Additionally, MST experts are trained in the recruitment process and provide substantial support in developing interventions and action plans to attract quality candidates. Bringing that expertise into the process helps New Mexico address their recruiting needs more effectively.



If you know of someone that would benefit from MST or you would like to start an MST program in your area, please click here.