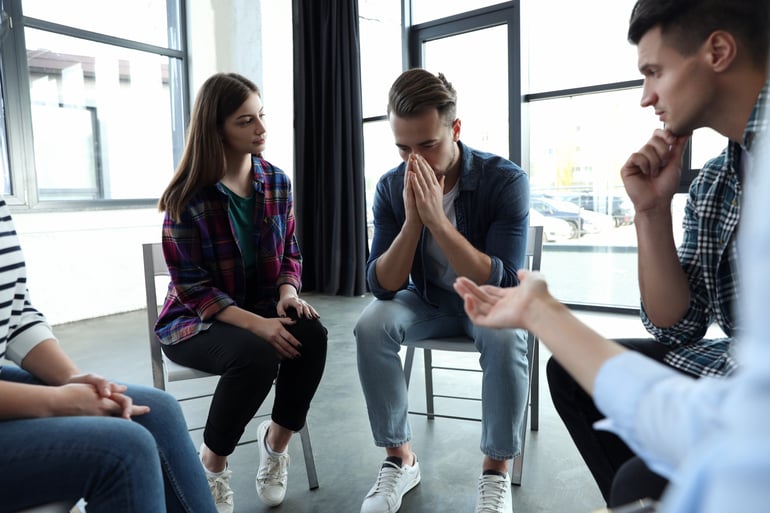 In 2019, 130 people committed suicide in the United States each day - sadly contributing to the 703,000 suicide deaths around the globe. September is Suicide Prevention Awareness Month, a time to raise awareness of the second leading cause of death worldwide for youth aged 15-24 years.
Often, the event of taking one's life is a result of an untreated mental health condition; the National Alliance on Mental Illness (NAMI) states that 46% of people who committed suicide had a known condition. Evidence-based treatment can be a potential solution in addressing these mental health problems that may lead to self-harm. In fact, in a survey conducted by the Harris Poll, 93% of adults in the U.S. think suicide can be prevented. During this month, suicide activists and organizations alike are shining a light on this stigmatized topic.
Bringing Light to a Heavy Issue
The data revolving around suicide is heavy. Normalizing this topic for both youth and adults can help make a difference by raising awareness of the importance of mental health treatment, which, in turn, can help decrease the number of deaths.
To put into perspective the toll that suicide takes on communities as a whole, Suicide Awareness Voices of Education (SAVE) uses the most recent data available from the Centers for Disease Control and the World Health Organization to compile the following list of facts. SAVE reports that:
depression is the leading cause of disability worldwide,
there is roughly one death by suicide every 40 seconds,
suicide among males is 4 times higher than females,
LQBTQ individuals who come from families that reject or do not accept them are over 8 times more likely to take their own lives than those whose families welcome them,
some of the highest rates of self-harm in the U.S. are among American Indian/Alaska Native, Hispanic, and White communities,
and suicide is the leading cause of death for people held in local jails.
Discussing a Public Health Concern
Recently, studies have shown increases in mental health illnesses since the start of COVID-19. After the pandemic slows down, experts predict the world will be left with a major public health concern. Suicide prevention experts say pre-pandemic, 1 out of 10 adults reported anxiety or depression but that number increased to 4 out of 10 cases during the pandemic.
Fortunately, countries and organizations are taking steps to acknowledge the current crisis. The American Rescue Plan is providing federal funds to all U.S. states to address mental health disorders. This new legislation will allow communities and schools to implement evidence-based programs, interventions, after-school activities, and more to help reduce mental health or substance abuse conditions in adolescents and adults. Moreover, the World Health Organization (WHO) called for preventive action strategies across all 183 countries in 2019. Lastly, the United Kingdom and Canada have teamed up to invest 4.4 million dollars into a Global Mental Health program that consists of 18 mental health innovations for youth in low and middle-income countries.
Anna Mueller, an associate professor of sociology at Indiana University Bloomington who studies suicide among adolescents, explains, "It is fairly normal for kids to have thoughts of suicide at times during adolescence and early adulthood. We need to be prepared to talk about it openly and honestly." While the rate of taking one's life is concerning, encouraging people to speak openly about mental health and treatment is beneficial to reducing stigmas surrounding suicide.
An Evidence-Based Approach to Prevention
A scientifically proven way to combat suicidal ideation in at-risk teens is to offer not just one-on-one psychological treatment, but a multilateral, comprehensive youth intervention that considers both internal and external risk factors such as family members, peers, schools, and communities. Multisystemic Therapy (MST) is an evidence-based program for at-risk youth that can play a large part in suicide prevention. Therapists work in the home, school, and community and are on call 24/7 to provide caregivers with the tools they need to transform the lives of adolescents and their families.
More specifically, MST-Psychiatric (MST-PSYCH) is an adaptation of standard MST for youth at risk of serious system consequences due to behavioral problems and mental health symptoms such as depression, anxiety, and impulsivity. Research shows that by working with the entire ecology of the adolescent, MST-PSYCH can help create supportive and engaging relationships that can ultimately reduce suicidal behaviors and ameliorate mental health conditions in youth and their caregivers.
Through mental health screening assessments and behavioral health services that consider one's entire environment and unique set of circumstances, individuals can thoroughly get the help they need. And although the pandemic brought a great deal of stress to communities worldwide, it has also ultimately allowed conversations to shine a light on the gaps in mental health care and we can expect to see a difference in the future.
Anyone could be struggling with suicide. If you or someone you know is in a crisis, please call the toll-free National Suicide Prevention Lifeline (NSPL) at 1-800-273-TALK (8255), available 24 hours a day, 7 days a week.
Multisystemic Therapy (MST) is an evidence-based program for at-risk youth and families. MST utilizes a built-in suite of services within the home, school, and community settings. Services include but are not limited to: social skills training, drug, and alcohol intervention, mental health services, and peer management.

If you know of someone that would benefit from MST or you would like to start an MST program in your area, please click here.