Fabiana Castro Brahm, an MST program developer, in the spotlight
Multisystemic Therapy (MST) is practiced in multiple languages and dialects—13, to be exact—across 16 countries around the world. Next to English, Spanish is spoken as a primary language by the most MST families, accounting for 15 percent of all those being treated.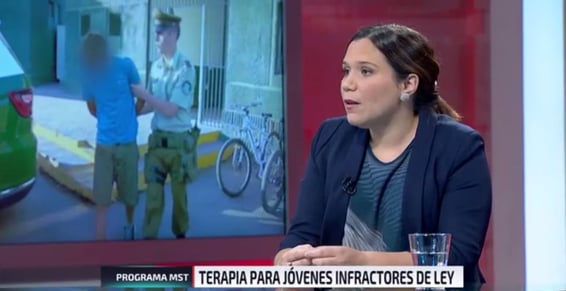 One would think that with so much diversity among MST clients and therapists, it would be hard to maintain a consistency with the model. Not so. There is a tremendous amount of quality-assurance practices built into the program, including a lot of time spent training our MST providers. Furthermore, MST has a group of dedicated professionals worldwide who champion the model, sharing with everyone who will listen how MST can benefit children with intense behavior problems.
One example of the tremendous skills our providers have in spreading the word about the MST model is in this video clip of Fabiana Castro Brahm, a program developer, appearing on a national news show in Chile. Grab some popcorn, and practice your Español, or share this video with a Spanish speaker who may be interested in learning more about the MST model. Click here to watch it now.
To learn more about what makes MST an effective treatment program for at-risk youth, download this white paper.