A mom, a daughter, an MST therapist, Jennifer Cottingham-Lane juggles it all, and does it well
It's before dawn in Houston, Texas and MST Therapist Jennifer Cottingham-Lane is up packing lunches for her children and preparing for another long day. Jennifer doesn't even get one day a week to sleep in. Most nights, she goes to bed with her phone's volume turned way up, just in case one of her MST families needs her. A single mom with two children of her own and a former college athlete, Jennifer coaches 8-10 year olds in track. Her kids run track and play baseball and somehow she manages to fit it all in, even though it means seeing her MST families on the weekends, early in the morning, or in the evenings. Jennifer is a master juggler. She has to be.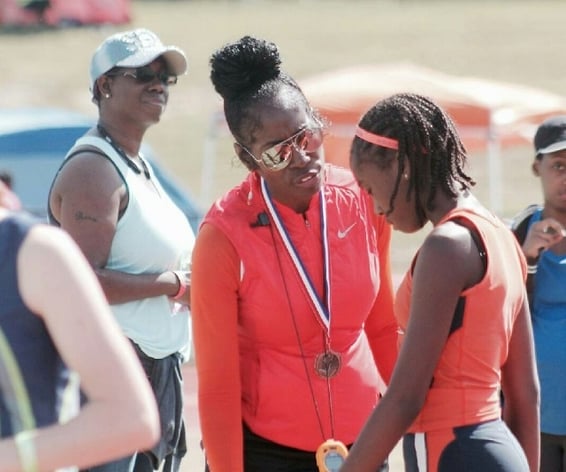 Jennifer and her daughter, whom she coaches
When her own mother suffered a stroke last year, Jennifer became her caretaker as well. They say that motherhood doesn't come with vacation days and Jennifer knows that first hand. She is a caregiver extraordinaire of her own children and her mother. She teaches these skills to her MST families so they to can become the best parents they can be.
Why choose MST?
I recently asked Jennifer about why she is an MST therapist. She said, "Because I love to see families succeed. It brings me so much joy to walk into a situation that's broken (no family is perfect) and to be able to empower parents to set limits and provide structure, and then to see their relationships with their kids improve as a result." Jennifer helps her families find the support they need keep their families together, whether it be church, friends, relatives or pro-social activities for the kids. These are the very same supports that Jennifer utilizes in her own life. "I would not have been able to keep going if not for my friends and family, neighbors and members of my church who help care for my mom while I am working."
Getting to know Jennifer and watching her exude such grace under pressure, I can not help but think about the legacy she is leaving to her own children. As we approach Mother's Day, I asked Jennifer about this. Jennifer said: "I want to leave a legacy for my children. I want them to learn from me to work hard to be the very best they can be. I hope the life I live will impart to them the importance of empowering other people. I tell my children to encourage others, no matter who they are or how you cross paths. My work with MST has been an incredible opportunity for my children to realize that there is a hurting world out there. Of course, they don't know the specifics of my cases, but they know when a crisis call comes in and I have to leave that there is a family out there hurting and they pray for the family I am going to see."
Thanks to all the moms out there
On Mother's Day we celebrate moms—their strength and dedication to the people they love and their efforts to raise children who will make the world a better place. I read a book on parenting recently and the introduction put the purpose of motherhood into such clear focus for me. It said: "You have been handed a piece of history in advance, a gracious gift you send to a time you will not see." Jennifer and countless other MST therapists embody these words every day, working hard to support the families they see and setting an example for their children. Jennifer's story challenges all of us to keep going; and is a reminder of why we do what we do. Happy Mother's Day to everyone out there doing whatever it takes to be a great mom.