Why MST booster trainings?
It's just human nature. You did things one way, are accustomed to that way, and you drift back into that comfort zone without even realizing it. Without continual focus and attention it's difficult to stick to new habits and skills. In the case of Multisystemic Therapy (MST), staying true to the treatment model is of utmost importance if the best results are to be achieved.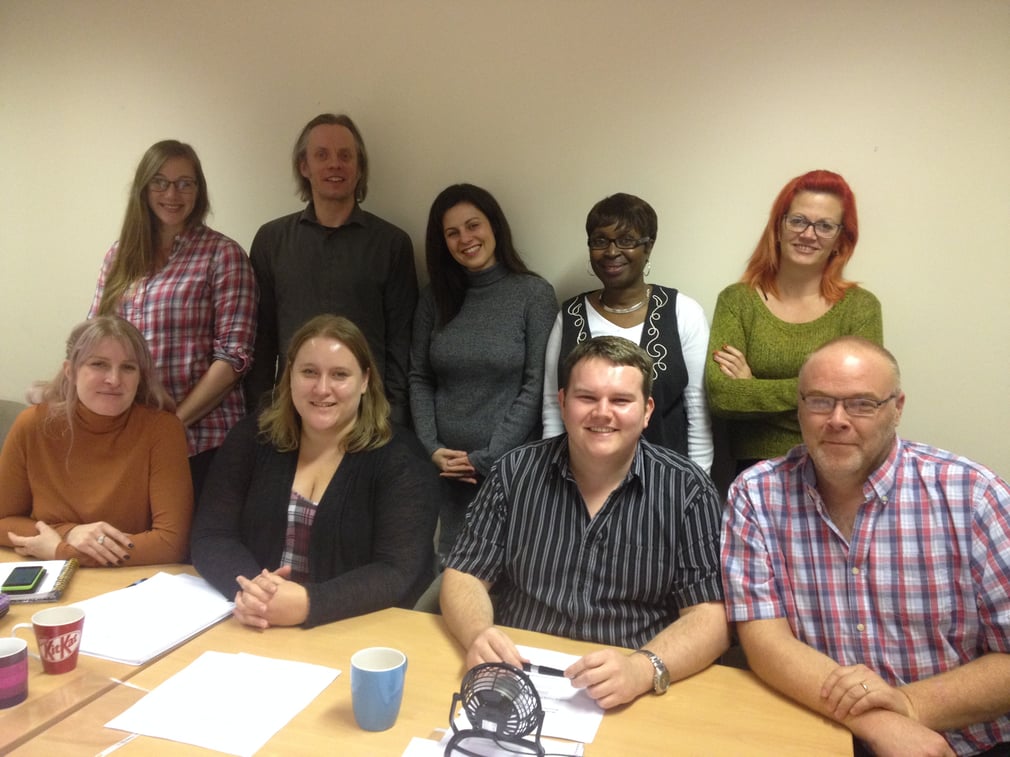 Back row left to right: Alexandra Westcott, Magnus Irvine, Kerry Jayne Lambert, Rose Amado-Taylor, Shelley Stel Front row left to right: Anna Davies, Georgina Privett, Gordon Wilson, Thomas Burke
As clinicians, we know that client outcomes will not live up to expectations if we don't adhere to the Nine Principles of MST. For evidence-based practices to translate to strong outcomes in the real world, there needs to be a system in place to counteract any drift away from what works. MST has a rigorous Continuous Quality Assessment and Improvement (CQA & CQI) system for fighting the tendency to fall back into old modes.
And that's where booster training comes in. As a part of the CQI system, these quarterly sessions reinforce a clinicians' skills and counterbalance the natural pull back to less effective models and methods. It is a key way that MST providers maintain the rigorous model adherence needed for helping the youth and families they serve. While the training topics vary, the boosters always reinforce: research-based interventions targeting multiple systems, engagement skills, the MST principles, analytic processes and a focus on CQI. All of which are core to the treatment model.
Booster training reconnects therapists with MST model
Gordon Wilson, an MST therapist with Action for Children serving Essex, England, says "MST booster trainings give us an opportunity to recap on what was learnt during five-day [MST Orientation] training while offering the opportunity to go more in depth and learn additional skills within these topics." Wilson's teammate, Georgina Privett, adds, "Boosters are helpful because it makes the therapist reconnect with MST. Team support is necessary and invaluable, but sometimes you need to check in to get back to the model."
The booster sessions provide peer learning, as well as peer support for therapists and supervisors. Treatment teams train together in an environment of growth and guidance, which further reinforces learning. Privett says, "I have always come away from booster feeling more confident, whether it is by a piece of the training that has really clicked, or by getting some useful feedback for a family."
Booster trainings are not generic
Using the many assessments and data points available, MST booster trainings are tailored specifically for the team and the community they serve. Rather than general workshops on broad theories and interventions with a one-size fits all approach, the teams work through the barriers to implementation of best practices within their communities. Participants adapt what they take from the sessions and apply it to their present and future families.
Booster trainings are for building team identity and cohesion. With food and games as well as time to spend supporting each other, boosters improve and maintain a positive team culture. Clinicians also benefit from training with members of other nearby teams. All this protects against burnout and staff turnover. Wilson said, "It is nice to be able to meet with another unique group of people who have and are going through similar experiences. MST work is intensive not only for the families, but for therapists, and it's important we are able to share this and feel empathy from others who know what we are going through."
When it comes to treatment options for juvenile offenders, MST works. To ensure that evidenced-based practices are being used well, booster trainings are invaluable for the team, therapists and families served. As Privett summed up, "Boosters are like the 'icing on the cake' in terms of support for the therapist and the team as a whole."
To learn more about the benefits of MST and what makes it so successful download this white paper