So if you don't like sad, don't read it.
We live in a lovely neighborhood in a residential community outside Boston.
It's quintessential New England. Cul-de-sac, walking distance to school, the library and shops. Full of big backyards with swing sets and slides. I raised my two kids here. They are now in their 20s.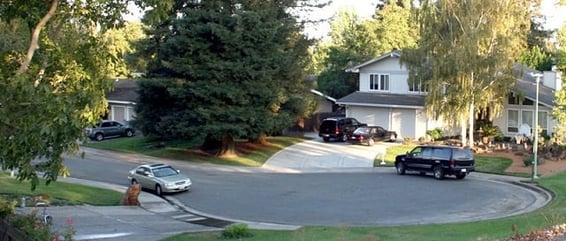 Twenty-six years ago, we were delighted when a new family moved in next door with a boy my son's age. They became fast friends. And soon we both had second children, me a daughter, she a son.
Fast forward 13 years and our lives diverged. My kids were typical teenagers, which meant the trouble they got into was handled by us as their parents, not by the police.
For the most part, they kept their noses clean, graduated from high school and college.
Her kids, especially the youngest, took a different path. The boys got involved with drugs at early ages, the parents divorced and the situation next door went from bad to worse. Soon the youngest was selling drugs, and our bucolic neighborhood was shattered by crime—including the ubiquitous sign that drugs are for sale—sneakers hanging from a telephone line.
I didn't know about Multisystemic Therapy (MST) at the time. All I saw were absentee parents who let their youngest kid run wild. He did plenty of stints in youth facilities, but each time came out to the same peer group and the same behavior.
I finally got so fed up, I called the cops every time there were kids at his house.
I confronted the mom and the police to do more, but nothing changed.
Thinking about it now, I feel terrible, because this family needed MST. Had this been available to them, the situation may have ended differently. Instead of the neighborhood rallying to help the family and their son, we shunned him and called the cops on him. And I'm sure this happens in neighborhoods all around the country, all around the world.
We get frustrated, and we blame the child. I did. And I carry a lot pain about that decision.
Not only was this child never helped, not only were the parents never helped, but the boy ended his life a day after he got out of his most recent stint in lockup. He hung himself at his father's home.
MST could have written a different ending
That is why I am involved with MST. That is why I am happy to see that Massachusetts is considering raising the age for juvenile offenders from 18 to 21. And there is a move afoot to introduce more therapeutic programs for teens.
I, for one, hope that state legislatures will really examine "what works" by looking at the Blueprints for Healthy Youth Development website and start embracing evidence-based programs like Multisystemic Therapy. I have no doubt this story would have ended differently if MST had been an option.
To learn what makes MST effective for substance-abusing teens, download this white paper.