"Kids in juvenile probation are no different." -Anonymous youth, The 100 Percent Juvenile Justice Pilot
To understand the Pittsburgh of today, you must look at the Pittsburgh of yesterday. Located at the confluence of the Allegheny, Monongahela and Ohio rivers, it was perfectly situated to transport steel and coal from the area. Taking advantage of that, Andrew Carnegie started U.S. Steel at the beginning of the 20th century. It wasn't long before the area was producing up to half of American steel. Working in the mines and mills was arduous work, but brought in a steady paycheck.
Demands of business don't always coincide with the needs of a community.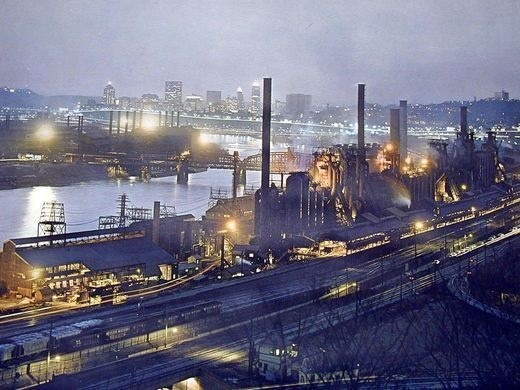 During the 1980s, foreign competition collapsed American steel production. That steady paycheck and stable working class collapsed, as well. However, unlike other towns and cities built on the back of a large industry, Pittsburgh rebuilt. We learned to rely on our colleges and universities to restructure jobs in medicine, technology and engineering. While this new job market embraced more and more transplants, the existing residents remained in crumbling neighborhoods with inadequate job training to compete in the new economy. It is this history that left families and communities behind, resulting in one-third of the region living near the federal poverty line, and the numbers of youth entering the "school-to-prison pipeline" increasing exponentially.
Assessing the problem
The Pittsburgh Foundation recognized this as an area of need and started the 100 Percent Pittsburgh project to improve life prospects for all Pittsburgh-area residents specifically focusing on those between 12 and 24. The Juvenile Justice Pilot youth interview opened the discussion by reviewing why these young men and women, all of whom were nonviolent offenders, land in the Allegheny County juvenile justice system and cannot seem to get out.
Six common themes emerged after five discussions with the youth in the pilot. The primary concerns each wanted us to know about were:
Being treated with respect in the juvenile justice process and by those individuals making treatment decisions that will impact the rest of their lives
Having someone listen to them and hear their side of the story
Having adults know that their behaviors do not dictate who they are as people and often occur out of the need to survive
Wanting systems to be more culturally sensitive to their needs
Being given an opportunity to learn their lesson and progress
To find out more about this project, please check out the full study here.
The importance of evidence-based treatments
As Pittsburgh moves toward increased awareness of those struggles impacting the youth within our community, it is important to recognize opportunities for increasing the use of evidenced-based practices, including Multisystemic Therapy (MST).
MST views a young person's problem behaviors as embedded in a complex and multi-determined ecology. MST factors in not just the community and caregiver perspectives, but also the culturally sensitive perspective of the youth and his or her role in driving the antisocial behaviors.
MST supports juvenile justice reform by improving the young person's success at home, reducing the likelihood of re-offense and strengthening his or her bond with positive supports.
It is time to revisit the adage that "it takes a village to raise a child." As a community, we have a responsibility to each at-risk youth and young adult. An essential part of that responsibility is approaching each of them with compassion, patience, understanding and intervening in ways that foster not just survival, but opportunities to thrive.
Melissa Golba is an MST Expert at Adelphoi Village
To learn more about how MST can help reduce racial disparities in the juvenile justice system, download this white paper.