Baltimore burning.
Disparity in the justice system. Is there a
role for MST?
A young black man in confrontation with police. Another young black man dead. Last summer, it was 17-year-old Michael Brown in Ferguson, Mo. This month, 25-year-old Freddie Gray did not get proper medical attention as he was being transported to a Baltimore police station and later died. Looting and vandalizing broke out in Ferguson. Protests were met with police in riot gear and tear gas. In Baltimore, full-scale rioting erupted following Gray's funeral.
While violence should not be condoned, it's easy to see that the frustration of the black community in Baltimore had gone beyond the boiling point. Why?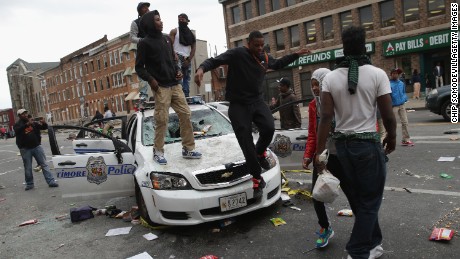 Perhaps one factor is the deplorable imbalance in our nation's juvenile-justice system. This is not merely recognized by members of ethnic minority communities. The painful reality is that many families have perceived and grappled with the fact that black youths are two times more likely to be arrested as their white counterparts. ProPublica found that black are at 21 percent higher risk of being shot and killed by police than young whites. President Obama has decried the number of young black men who died as result of police actions, calling it a "slow-rolling crisis."
Racial disparity exists at nearly every point of the juvenile justice system, according to the U.S. Department of Justice's Department of Juvenile Justice and Delinquency Prevention (OJJDP). They are less likely to be diverted, more likely to be sentenced to secure facilities and even more likely to be transferred to the adult system.
On top of this, minority youths have disproportionate contact with law enforcement. In 2011, black youth were 269 percent more likely to be arrested for curfew violations than whites. In that same year, black juveniles were 44 percent more likely to be arrested for drug offenses than their white counterparts.
This begs the question, what can be done? Studies have shown that this disproportionate contact with the legal system can be offset by referring black youth and their families to the Multisystemic Therapy (MST) and other evidence-based (EBT) programs. This is a pancea, but meta-analysis of evidence-based practices revealed that MST was perhaps the only treatment shown to reduce offending by African American youth.
MST works with high-risk adolescents to keep them at home, in school and out of trouble. One of its primary aims is to get the family involved. MST therapists show parents and caregivers how to take charge. Of course, one Baltimore mother has already figured that out. She caught the attention of the nation when she saw her son on TV with rioters. She ran to the scene, accosted the boy, yelling, "You got to be kidding me" and hauled him back home. While the necessity of her use of physical aggression is being hotly debated in conversations across the country, what is not debatable is that parents who are aware of and influencing their child's activities, like this mom, can have a long lasting positive impact on their children's futures.
It is not unusual for MST therapists to get involved with law-enforcement officers on mutual cases. Police discipline with arrests. Parents have a much broader repertoire of interventions they can use daily to drive home their important teaching lessons. We have to reverse the reliance on the formal system to make long-lasting changes more likely in the home and adolescent offender.
Will providing chronic and violent offenders MST change the system and make the "slow-rolling crisis" disappear? Obviously not, but it can help—one child, one family, one community at a time. And help is what this country needs.
Portions of this blog were taken from a piece written by Maureen Krishna on the aftermath of Ferguson, Mo.
To learn more about the effectiveness of MST. Download this white paper.