Many people and cultures throughout the world condone the practice of using corporal punishment to discipline children. But should they?
UNICEF doesn't think so. Its Convention on the Rights of the Child called for the abolishment of the parents and caregivers' right to use physical punishment on children. Today marks Universal Children's Day, which began in 1954. Its goal has been to improve the welfare of kids across the globe. As stated in a report to the U.N. secretary-general in 2001, "We were all children once. And we all share the desire for the well-being of our children, which has always been and will continue to be the most universally cherished aspiration of humankind."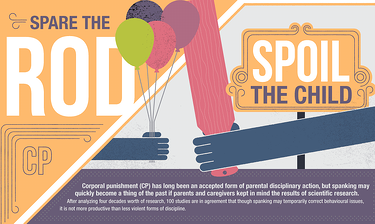 In celebration of Universal Children's Day, MST has put together a thought-provoking infographic on the consequences of corporal punishment. We call it, Spare the Rod, Spoil the Child. Click here to see the Infographic.
Ending violence—including corporal punishment—is an objective of the United Nations and Multisystemic Therapy for Child Abuse and Neglect (MST-CAN).
MST-CAN is designed to help children and their families overcome physical and emotional abuse, and neglect. It works to keep children safely at home. The focus is providing treatment to the whole family with special attention given to parents to overcome some of the challenges they face to parenting.