An award-winning poet helps a family use art to express their experience with MST
Albert Mills and his twin brother, Nnamdi Chukwuocha, pictured below, were named the 2016 Poets Laureate of Delaware. They've been writing poetry and using art to express themselves since they were 7.
As an MST therapist for the last four-and-a-half years with Psychotherapeutic Children's Services in Dover and Wilmington, Del., Albert has a lot of experience helping youth and families involved with the criminal-justice system. He is known for speaking publically in his community using poetry to talk about community issues, such as gun violence, poverty and the justice system. For Al, poetry changed his life. But to him, it isn't just a poem. "You're not just writing a poem or an apology letter. You're writing your words. You're telling your story. What is your story?"
What follows is the story of one MST family who chose to use poetry to express the difference it made in their lives.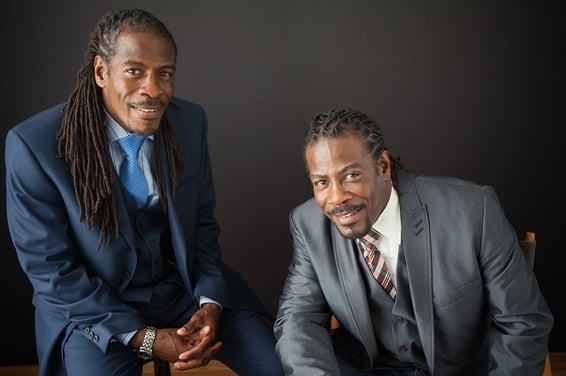 When I started the program I wasn't being a good son, I was hanging in the streets messing with drugs and guns
not following curfew or going to school
I didn't respect my mom or follow her rules—

At the start of treatment I was overwhelmed, hopeless and sad
I thought my son was a lost cause headed for prison just like his dad
The PO said he was facing a violation ready to be sent away—
I made up my mind to do whatever it takes to save my son that day—
MST came and showed me not just what I was doing wrong, but how I could improve
He had me reach out to my family for support and we can came up with a plan to get him back in school—
He said we are a team and that my families safety was priority one
Then we put together a safety plan for me to search the house to make sure there were no more drugs and guns—
When we started our sessions I didn't think it would work
But it wasn't just talking he left me and my mom with homework—
Now my moms is calling the school to set up meetings
she was calling and even coming to get me if I wasn't home at 7 in the evening—
Before she would just talk, but now she is actually doing it—calling & going to my friends house—to find out my whereabouts
We created a chores list and a peers list of people she didn't want me around—she began to search my room, no more hiding places now
We started to see progress—we worked as a team—
And my Therapist show me I wasn't alone & it wasn't as bad as it seemed
We came up with new rules for the house, Mom posted them on my door so I couldn't forget or ignore
The rules or my chores
And when I completed the list & followed all rules and didn't skip school
I could gain free time on the weekend—mom even paid for me to go to a studio which was cool
Before I was robbing and stealing—being shot at was real
Things begin to change when my buddy Brandon got killed
5 months later and mom and I are as good as we ever been
I listen to her like a parent & talk to her like a friend
I no longer carry guns or disrespect my mother
I help her care for my grandmother & little brother
I work part-time and mom and I talk more and do things together
I still hang out with my friends but I now avoid negative peers / situations all together
I accomplished the goals that we set for me
Successful completion of MST and getting off probation early
For my family, MST was the right program at the right time

—Our Therapist supported us and helped me find the strength, I thought I'd never find
He help me to see that if I didn't change what I was doing then my son was headed for jail
He helped me to believe in myself and how this was too important to fail
I remember him saying over and over again—that if I did nothing—then I'm allowing him to win, just him leading my son again
But if we put a consequence in place, if we do something to change his behaviors now
And if I was consistent, stern and supportive—then things would change around
He was right!!
What growth and development—my son has found his stride now
He smiles again and is focused on school and family back on the right track soon to be College bound
This is my families journey from bad to good to great
What a difference MST can make
To learn more about the impact that MST can have on a family, download this white paper.