The unrest that started in Ferguson, Mo., after the shooting death in August of an unarmed black 18-year-old by a white policeman continued to roil. It was exacerbated by the killing of another young black in St. Louis again at the hands of a white officer. Hundreds from across the country descended on the two cities to protest with shouts of "Hands Up! Don't Shoot" and placards proclaiming "Black Lives Matter." The incidents are reminders of the imbalance in many of our nation's communities.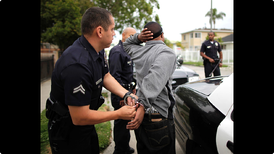 Black youths are two times as likely to be arrested as their white counterparts. ProPublica found that black are at 21 percent higher risk of being killed by police than young whites. Disparities exist at nearly every point of the juvenile justice system according to the U.S. Department of Justice's Department of Juvenile Justice and Delinquency Prevention (OJJDP). They are less likely to be diverted, more likely to be sentenced to secure facilities, and even more likely to be transferred to the adult system. Many communities are working to identify what they can do to correct this inequality.
In light of these disparities, a natural question is do youth of color commit more crimes? In 2005, Janet Lauritsen compared re-arrest data with self-report surveys and found that there were few group differences between the two populations. However, she did find that black youth were more likely to commit violence offenses. A separate analysis revealed contributors to this imbalance. Among them are selective enforcement, different levels of access to treatment, institutional racism, indirect effects of socio-economic status, differential offending and administrative practices and biased risk-assessment instruments.
Some of these factors may help explain why in 2011, black youth were 269 percent more likely to be arrested for curfew violations than whites. In that same year, black juveniles were 44 percent more likely to be arrested for drug offenses than their white counterparts. However according to self-reports, black and white youth use marijuana at relatively similar rates.
This disproportionate minority contact with the legal system can be offset by referring black youth and their families to the Multisystemic Therapy (MST) program. A meta-analysis of evidence-based practices revealed that MST was perhaps the only treatment shown to reduce offending by African-American youth. At that time, there were four studies of MST with significant numbers of black youth, whose positive outcomes were similar to non-minority youth.
MST therapists are uniquely positioned to be effective advocates for the young offenders and their families when they come in contact with the court system. These therapists are deeply aware of the youth's home, neighborhood, school and peer system and see all their unique strengths and struggles. Families often view their MST therapist as a person who understands their situation well and is in a position to best assist them. Being a trusted advocate while working with the family, MST therapists can have a vastly different experience than those in law enforcement might.
In addition to the comprehensive view of the ecology surrounding the youth, experienced MST therapists have an understanding of the court system and usually have strong relationships and partnerships with officers of the court. It is this multisystemic approach and position in the service system that leads to a key role that MST therapists play—that of "bridge builder." They are able to assist all parties in working toward shared goals and crafting collaborative plans to eliminate future crime, decrease contact with law enforcement and keep the youth safely in the home and community, where he or she is more likely to complete school and keep out of jail as an adult.
For example, family sessions focus on increased supervision and monitoring, including curfew compliance, decreased negative peer associations, increased school attendance, elimination of substance use and effective discipline. When done well, it is likely the youth will not have brushes with the law as often. Additionally, an MST therapist carefully prepares the family for court hearings using role playing and other techniques. How the family presents itself to the court, acknowledging the youth's accountability first and showing plans to reduce the problem behavior second, is paramount for a successful outcome.
It is not unusual for therapists to get involved with law-enforcement officers on mutual cases. In one case, the single black mother shared with the local white sheriff our plans for dealing with her teenage son's aggression in a way that empowered her without more involvement with the legal system. Up until then, the sheriff would step in to discipline with the best of intentions and with a genuine warmth and concern for the boy. However, his paternal-type intervention at times led to the youth's mom losing control of her son, who accumulated more charges. The sheriff inadvertently undermined the mom's role as her son's primary disciplinarian. Police discipline with arrests. Parents have a much broader repertoire of interventions they can use daily to drive home their important teaching lessons. We have to reverse the reliance on the formal system to make long-lasting changes more likely in the home and adolescent offender.
MST therapists working in homes and neighborhoods afford a great opportunity for increased partnership between the youth, family, law enforcement and court officers to most effectively help the needs of the youth of our nation and keep our communities safer.
Maureen Kishna, MSSA, LISW-S is a Research Associate with the Center for Innovative Practices (CIP) at the Begun Center for Violence Prevention Research & Education at Case Western Reserve University's Jack, Joseph, and Morton Mandel School of Applied Social Sciences