It's National Hispanic Heritage Month. Here is one MST expert's story of being Hispanic and practicing Multisystemic Therapy.
I grew up in Queens, the most diverse borough of New York City. I was surrounded by many languages, but Spanish was what my parents, grandparents, aunts and uncles and friends spoke. It will always give me a sense of family.
We are celebrating National Hispanic Heritage Month from Sept. 15 to Oct. 15. The observance is marked by music, awards and awareness of the illustrious Latino experience and history. This festive period led me to reflect on my personal heritage that has opened many doors of opportunity.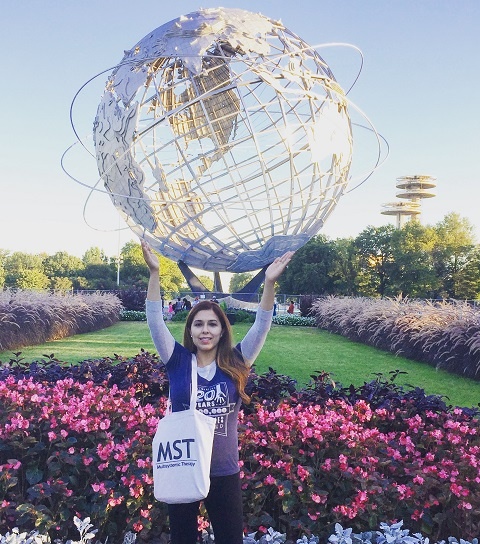 Estoy agradecida y orgullosa (I am grateful and proud) to work for MST Services and serve many families. How else could I have wound up a bilingual MST consultant, 5,126 miles away home, getting ready to give the 5-Day Orientation Training completely in Spanish, in a country (Chile) I had never visited, to a group of professionals I had never met?
MST en español
I found myself in a filled room where I happily people-watched and heard numerous conversations in my native tongue. It was reminiscent of my upbringing. Looking down at my orientation trainer's binder, I still couldn't believe the content was entirely in Spanish. There was countless hours of conversations and translating to arrive at this beautiful finished product. It was what had appeared to be an unreachable dream to have MST resources in Spanish for my fellow Latino brothers and sisters. This group of 20 therapists and supervisors would carry out the precious family work and have the capacity to reach 36 to 45 Chilean families. How could I not be in awe? How did this Latina get from New York City to Santiago? I must go back a few years to share the journey.
I was raised in the midst of diversity, and even within the Latino culture, there were subcultures and groups. Despite the unique qualities, there was also a uniting factor of language and often the desire for betterment living in the States. As a therapist, I encountered this desired outcome from many Latino caregivers. They often opened their hearts and shared how much they wanted their children to take advantage of the opportunity for study and work to reach individual success that would become the family's sense of collective joy.
Using Spanish to connect
As an MST therapist, it was my role to establish trust and engagement. One factor that helped was language and the love for family. The role of the family and the need for love, respect and appreciation was a central theme used during treatment. Realizing how this was understood and expressed was crucial in making a therapeutic alliance. It opened the door for me, and I needed to open the door for them. Whether the family was from the Dominican Republic, Puerto Rico, Ecuador, Peru, Mexico or Paraguay, they had what it took to influence their child.
As a supervisor, it became my job to prepare other Spanish-speaking therapists to serve Latino families and often discover the therapy phrases in Spanish that would resonate. Continuing to translate therapeutic resources was the norm. Supporting the therapist by joining them on family sessions to recognize clinical challenges was something I often did.
I continued to witness the triumphs and setbacks and the unique ability for an MST team to take advantage of a family's or a system's strength. Using a mother's ability to help others as a surrogate older "hermana" (sister) could now transform these very people into supports that would, in turn, assist her in getting her son to school.
Spanish-speaking resources were built by the families through conversations in Spanish and at times, reminiscing of their native countries or seasonal customs. MST was the vehicle for these connections as it was culturally sensitive no matter what the role I was in—therapist, supervisor or expert—as long as I used the analytical process to strengthen "la familia."