Becky Womboldt honored by her agency for integrity, passion, and
perseverance
Burnout is a constant struggle for anyone in the mental-health field. But for Becky Womboldt, Multisystemic Therapy (MST) supervisor of the Highfields Livingston team in Howell, Mich., it's the model itself that keeps her grounded and able to push through roadblocks.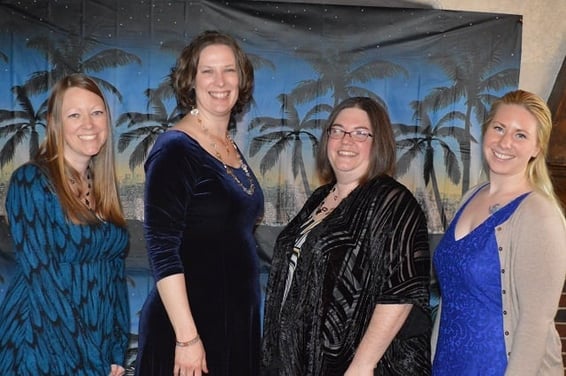 From left to right: Becky, Addie Lanterman, Cheryl May, Tammy Ruterbusch
When the going gets tough, Becky says it's not a reason to give up. "There's always an answer of what to do [with the analytical process]. I rarely feel like we have tried everything. I've been doing MST long enough to see that it works, and there have been so many times where we fought for a kid thinking it was the last-ditch attempt, and it worked. It's those experiences that reassure me."
One of those experiences was years ago when she was a therapist. Becky was working with a young person who was about to be expelled from school. So, she went to the school-board meeting and advocated "her heart out" for him to stay in school. "Something in the meeting must have clicked with someone there because they decided to give him another chance. We had walked into the meeting thinking it was a lost cause, but it wasn't. And that's the example I always go back to when I need to dig deep and know for myself that it's possible."
And the award went to...
If you're thinking that Becky goes above and beyond—you're right. So much so, that her team nominated her for the Carl J. Latona Distinguished Service Award. Every year, the Highfields Organization honors an employee with this award. One of the original CEOs of the agency, Latona embodied four major characteristics: integrity, passion for helping others, perseverance and an uncompromising commitment to "doing the right thing." Becky was chosen this year for being an example of all these characteristics.
Her team described her as someone who is "honest and forthright, and consistently follows through on the commitments she makes to her colleagues, friends and family. She helps re-ignite our own passion for helping others when we sometimes lose sight of that amid the daily stresses. Becky is often placed in the position of being the sole voice advocating for a particular child to remain in their home, or for the other providers to recognize the strengths and good intentions of a difficult parent. Becky has never shied away from advocating for our families or our model, regardless of how unpopular that perspective may have been. "
Congratulations to Becky for all your hard work, day in and day out, to improve the lives of children and their families.
Suzanne Kuepper is an MST Expert at Liberty Resources.
To learn more about Multisystemic Thearpy, download this white paper.