A recent survey says, yes,
rehabilitate youth instead of incarcerate
So, just what do Americans think about reforming the country's juvenile justice system? Do they think it important to switch the focus from incarceration to rehabilitation? Should something be done about the racial disparities? Should young offenders get more help for self-improvement? Is there a great divide politically over the issues?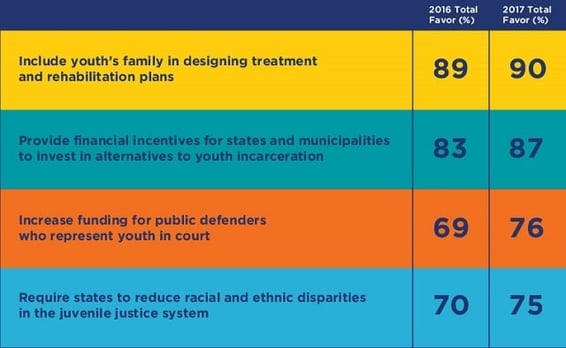 Let's answer that last question first. A poll conducted in January by GBA Strategies found strong support from Democrats (81 percent), Independents (83 percent) and Republicans (68 percent) for putting rehabilitation over incarceration. They found that support for initiatives to reform the youth justice system is growing and this sentiment is shared by Americans across racial lines.
When it came to specific system reform proposals, those numbers rose even further. Ninety percent of those responding to the poll were for designing treatment and rehabilitation plans that include the family in planning and services. Eighty-seven percent were willing to loosen the purse strings and give states and municipalities money to invest in intensive rehabilitation, education, job training and community services.
Focus on rehabilitation over incarcerating youth
The survey clearly showed that Americans think juveniles are capable of positive change and should be given help so that they can become productive adults. Ninety-four percent of those taking the poll agreed with the statement "When it comes to youth in the justice system, what is most important is that the system does a better job of making sure that he or she gets back on track and is less likely to commit another offense." Interestingly, they increasingly do not see prisons as the solution. Sixty-five percent felt that "We spend too much taxpayer money on prisons for youth in the justice system." But 74 percent said yes that "counseling and education for youth who have committed delinquent acts helps prevent future delinquent acts."
Increase access to public defenders
People (76 percent) saw a need for more public defenders and would support additional funding to increase the numbers available to represent children in court. When it came to forcing states to do something about racial and ethnic disparities, 75 percent backed such a proposal.
Improve juvenile prisons
So what should be done to increase opportunities for delinquent youth and improve conditions if they are incarcerated? Respondents were highly in favor of having an independent group of community leaders working to stop young people from being abused while in custody (90%) and requiring facilities to allow families to see their detained child at least once a week (88%). Also, more than 80 percent favored placing youth in smaller facilities that are within 60 miles from home. Multisystemic Therapy (MST) can help the reform movement by keeping kids out of the system altogether or making it so they don't get in trouble with the law again. The MST-FIT program works with directly with juvenile justice facilities to involve families while kids are incarcerated and make a successful transition home so they don't ever have to go back to prison.
To learn more about what makes MST an effective intervention for at-risk youth, download this white paper.